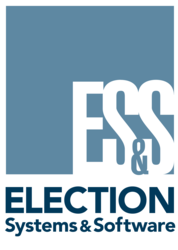 Our products address the needs we hear from election professionals regarding ease of use, productivity and flexibility
Omaha, NE (PRWEB) August 15, 2012
Election Systems & Software today announces another significant milestone in its long and successful company history. For the first time, ES&S will be demonstrating a new and comprehensive suite of products at the 2012 Election Center Conference in Boston. This new innovative solution suite addresses the ever evolving needs of the election market.
"Today's election administrators are seeking ways to reduce costs and enhance efficiencies. Our product suite provides the ability to swiftly and efficiently check in voters, print ballots on demand, digitally scan and tabulate any ballot style, for any jurisdiction size, and provide tabulation systems that meet the needs of all voters," said Tom Burt, Chief Operating Officer at ES&S. "With the introduction of our new forward thinking, voter intuitive solutions, ES&S offers a complete election package designed to meet not only today's needs but tomorrow's as well," added Burt.
The product suite is an election management system comprised of five solutions, each with a highly focused feature set complete with detailed reporting metrics customized to specific jurisdiction uses. The five products are:
ExpressPoll®-5000 Electronic Poll Book
The lightweight ExpressPoll®- 5000 stores registered voter information for any size jurisdiction. Poll workers enter an identifying piece of information onto the large, easy-to-read touch screen to verify that a voter is registered. The ExpressPoll®- 5000 is intuitive and easy to use, adding value and convenience to your voting process.
Balotar® On-Demand Printing Solution
Balotar™ is an integrated, portable, highly secure printing system specifically designed to automate generating ballots, on request, eliminating the waste that typically occurs with Absentee and early voting. Balotar combines commercial printing components with intelligent software that enable it to meet the demanding printing and audit needs of any jurisdiction.
ExpressVote®
By combining paper-based voting with touch screen technology, ExpressVote® creates a breakthrough in voting solutions. Used in early voting and on Election Day, the ExpressVote® handles it all. No longer must election officials guess the number of ballots to print—instead a Vote Session Activator™ is printed which determines the correct ballot style to present to the voter. Accommodating to various election needs, this system can serve all voters, even those with special needs, allowing voters to cast ballots autonomously.
DS200® Digital Precinct Scanner
The DS200® combines the best attributes of a paper-based system with the flexibility and efficiency of a digital environment. Building on ES&S' vast experience, it incorporates best practices and customer feedback to take traditional optical scan ballot tabulation to a new level. The DS200® is an intelligent, advance, integrated solution featuring the most advanced patented digital image technology available in the market today.
DS850® High-Speed Digital Scanner
ES&S remains at the forefront of the Election Industry by continuing to provide cutting edge digital scanners and tabulators. The DS850® Central Tabulator is a perfect complement to the DS200® Precinct Scanner. The DS850® is unrivaled in speed and accuracy. Its high-speed digital imaging solution allows for smooth, continuous ballot scanning from start to finish—saving valuable time during the election process!
"Our products address the needs we hear from election professionals regarding ease of use, productivity and flexibility," said Matt Nelson, ES&S Senior Vice President of Sales. "By integrating electronic roster management, on-demand ballot printing, independent ballot marking for people with disabilities and digital scanning, your jurisdiction is completely unified for any election."
This product suite is efficient, accommodating, and HAVA compliant. Go ahead, give your voters what they want…flexibility without sacrificing integrity.
About Election Systems & Software
Election Systems & Software, Inc. (ES&S) is the world's largest and most experienced provider of total election management solutions. For nearly 40 years, ES&S — as a company solely focused on elections and the leader in its industry — has grown to support a customer base of more than 4,372 jurisdictions throughout the world, and more than 290,000 election systems installed worldwide. http://www.essvote.com