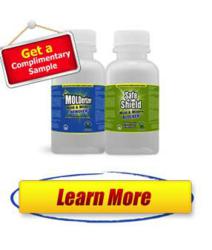 Given that the said solutions are without harsh chemical ingredients, the use of them is safe for health and the environment.
St Louis, MO (PRWEB) August 20, 2012
High mold removal cost can still plague property owners even in summer. After all, it is the best season to clear up those spores that built-up over the past months. And to help every mold sufferer get rid of them without spending too big and straining the home-maintenance budget, Molderizer suggests the use of its mold remediation products. It said that they are affordable and announced that they are currently available with zero shipping fee charged.
Get a Sample of Molderizer's Non-Toxic Mold Remediation Products Now
Mold grows basically in the presence of moisture. And because moisture is everywhere even during the summer, mold could be an "all-year" problem to any property owner. That is, unless one prepare an effective and safe mold treatment regimen.
However, most of today's mold remediation products are with strong chemical ingredients. And needless to say, those ingredients could pose a danger to a person's health and even to the environment. Sure thing, there is always the option of hiring a professional cleaner. The problem is, that will inflate the mold removal cost.
To minimize the mold treatment expenses, one could choose to clear the spores personally. Nonetheless, that will require well-picked mold remediation products. Those products must be effective and safe to be of true help in making the bed bug treatment less expensive without compromising the good results that mold sufferers should get.
And among the many mold removers that property owners can now get, Molderizer is confident that its own solutions are the best. It reasons that they fit the "effective and safe" description best compared with others. That's because unlike the other products, their solutions are being produced with natural ingredients and they were proven effective by their first users, it further explained.
Basically, those mold remediation products that the company referred were its Molderizer and Safe Shield. They are non-toxic sprays for mold treatment and mold prevention respectively.
See How Molderizer and Safe Shield are More Beneficial Than the Others
Given that the said solutions are without harsh chemical ingredients, the use of them is safe for health and the environment. Apart from that, they also offer big savings to property owners and even to mold removal contractors as they are in available in different volumes at affordable prices.
Additionally, both Molderizer and Safe Shield are now being offered by the company with free shipping. That promises more savings for all of its users.