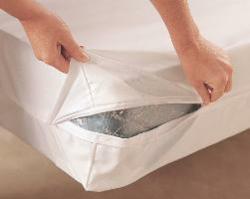 Chicago, IL (PRWEB) August 16, 2012
Seasonal allergies are usually at their worst during the Spring and Summer months, when plants and trees are in bloom but can continue to cause troubles well into Fall. Allergies to dust, more specifically dust mites, act up during these months. The main reason for this is that dust mites are attracted to warmth and humidity. Symptoms from dust mite allergens are similar to that of allergies from pollen or ragweed, etc., with itchy eyes and nose, sneezing, runny nose, puffy eyes, and sometimes asthma. Allergy Asthma Technology offers the perfect solutions to sleep soundly and comfortably without the annoyances that come from dust mites and other allergens within the bedroom.
Dust mites are microscopic insects, relatives of the spider, which feed on dead skin particles from humans and animals. Although the mites do not directly affect humans, there is a chemical in their waste that if inhaled causes an allergic reaction in humans. Female dust mites reproduce rapidly and abundantly, causing the insects to multiply at high rates.
Allergy Asthma Technology provides a variety of quality allergy free bedding products, including: sheets, covers, pillows, pillow cases, mattress pads, comforters, blankets, duvet covers, and feather beds. Allergy Asthma Technology's allergy bedding is designed to prevent dust mite allergens, along with many other allergens, from infiltrating sheets because they are woven so tightly that allergens cannot penetrate. Allergy-free blankets are offered, for lounging on the couch or traveling. The blankets are down to provide extra softness and warmth and exclude allergens.
Dust mites often live in places where fungi can produce, which can occur within the foam in pillows and mattress pads. Since a pillow is where your head goes, it is important to make sure that pillows prevent dust mites from collecting. Allergy Asthma Technology provides a variety of hypoallergenic pillows allowing customers to choose a familiar and comfortable one. The selection includes memory foam pillows, down blends, solely down, and cotton, wool, or silk.
It is a common misconception that feathers, or down, bedding is not suitable for those allergic to dust mites, when the opposite is true. Down bedding only affects those that are allergic to feathers. All of Allergy Asthma Technology's down bedding products go through extra procedures in order to provide the best quality for customers. The feathers that go into the bedding are thoroughly cleaned before being placed into the products.
Allergy bedding is not only ideal for dust mite control, but can help protect against other allergens as well. Oftentimes, pet dander is collected and accumulates within bedding that can create symptoms for those allergic to it. The same situation can happen with pollen and other allergens. Additionally, hypoallergenic bedding is a good way to handle bed bug prevention to keep those pesky bed bugs away. Instead of constantly washing sheets, covers and pillow cases, allergy bedding simply prevents allergens from entering and accumulating in the bedding, allowing for an allergy-free night of sleep, and a healthier way of life.