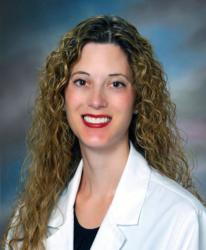 "Sometimes women endure pain so long that they think it's just part of living. They are extremely grateful to receive help and get their sex lives back so they can get to work on reviving their marriages."
Cincinnati, Ohio (PRWEB) August 21, 2012
An expert in female sexual pain and dysfunction at Cincinnati Urogynecology Associates in Cincinnati has been named American Congress of Obstetricians and Gynecologists Mentor of the Year.
Rachel N. Pauls, M.D. does more for her patients than cure physical ailments. The urogynecology and pelvic reconstructive surgeon gives women their sex lives back—and saves marriages in the process.
Pauls, of Cincinnati Urogynecology Associates at Good Samaritan Hospital, works for TriHealth's Division of Urogynecology and Pelvic Reconstructive Surgery. The practice has offices in Clifton and West Chester, Ohio.
An international presenter and clinical research director for the fellowship in Female Pelvic Medicine and Reconstructive Surgery, she is the 2012 recipient of the Mentor of the Year Award from the 55,000-member American Congress of Obstetricians and Gynecologists(ACOG). The award honors her excellence in teaching urogynecology to physicians in training, and was presented based on nomination by her current fellows.
"I think many women experience occasional pain during sexual intercourse," she said. "And sometimes it's difficult to determine what is not normal. But if sex hurts repetitively for several attempts or a month of time, it may be appropriate to seek a physician's care."
A subspecialty within the fields of obstetrics and gynecology and urology, urogynecologists are surgeons who treat women with pelvic floor disorders, urinary incontinence and bladder pain. Pauls is also an internationally-known expert in the diagnosis and management of female sexual dysfunction.
"Sometimes women endure pain so long that they think it's just part of living," she said. "They are extremely grateful to receive help and get their sex lives back so they can get to work on reviving their marriages."
Women are motivated to be sexual in a relationship through a desire to be emotionally intimate, said Pauls. Sexual drive can fluctuate as part of the normal sexual response, and in the context of a maturing relationship; however, if sexual intercourse is uncomfortable, this may be a critical deterrent in sexual motivation. Hormonal changes and physical stressors may also be part of the trigger for pain with sex.
A common finding for many women after childbirth, for example, is discomfort with intercourse for up to six months. Women who are peri-menopausal notice hormonal fluctuations as early as their mid-forties due to a lessening production of estrogen, which may result in discomfort with intercourse due to vaginal dryness. Vaginal dryness is often easy to remedy: prescription topical treatments using estrogen are very safe and are not absorbed into the body, said Pauls.
Untreated pain with intercourse can escalate over time to the point that women avoid sex, which damages their marriages or primary sexual relationships.
Pauls is also an expert on vulvar conditions. The vulva refers to the external area of the vagina which includes the labia, clitoris and vaginal opening. Symptoms noted in this area may be due to common issues like vaginal infections, but if a physician doesn't examine the area properly, diagnoses can be missed. Other skin conditions may occur in this area, and in some cases could be a sign of early cancer.
"Itchiness and dryness can be misdiagnosed as a yeast infection," said Pauls. "If the itchiness doesn't completely go away, or the woman is suffering from repetitive symptoms, this may deserve a closer look."
Some women suffer from pelvic floor disorders, such as prolapse, incontinence or bladder pain, which make it difficult to have satisfying intercourse. Pain in the vulva not related to dryness or infection could be a diagnosis known as vulvar vestibulitis, which is treatable. Chronic pain may result in spasm of the muscles surrounding the vagina known as the 'levator' muscles. This spasm may need to be treated concurrently in order to make a woman feel comfortable with sexual intercourse. The good news is that the majority of these symptoms can be treated with pelvic floor physical therapy or trigger point injections by a specialist like Pauls.
After filling out a patient questionnaire, an interview and an initial exam, Pauls diagnoses a patient and suggests a course of treatment. Each patient is also counseled on the benefits and risks of each course of their therapy.
One grateful patient who was cured of her pelvic pain by Pauls a year ago still stops in the office periodically to give Pauls little treats from various local bakeries.
Pauls' research focuses on pelvic floor disorders and female sexual function, and the impact of urogynecologic surgeries on sexuality. A Fellow of the American Congress of Obstetricians and Gynecologists, and the Royal College of Physicians and Surgeons in Canada, she and her co-researchers at CUA have presented 20 original studies to conferences nationwide and internationally over the last year.
Pauls serves as reviewer for 12 peer- reviewed publications and is on the editorial board for The Journal of Sexual Medicine.
In addition to her practice and teaching roles for TriHealth's Obstetrics and Gynecology Residency and Fellowship Programs, Pauls is co-director of the Women's Center for Specialized Care at Good Samaritan Hospital in Cincinnati. She is a consultant for corporations involved in interventions for pelvic organ prolapse and sexual function, and volunteers for several national organizations, including the American Urogynecologic Society's Education Committee.
Cincinnati Urogynecology Associates specializes in patient care, education of Fellows, research and philanthropy. For more information about Cincinnati Urogynecology Associates or an appointment, call (513) 463-4300 or visit http://www.CincinnatiUrogynecology.com.