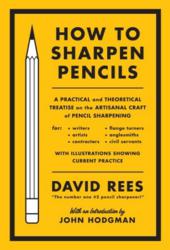 Our goal has always been to be a one-stop resource for the creative mind.
Stockton, CA (PRWEB) August 16, 2012
Pencils.com, the internet's leading resource for high-quality pencils, journals and notebooks, has launched an online Bookstore. Its books focus not only on pencils but the creative process they empower. This also marks the introduction of Moleskine notebooks to the Pencils.com store.
In addition to Moleskine, Henry Petroski's written history of the pencil and David Rees' treatise on artisanal pencil sharpening, the bookstore features Look, I Made a Hat, a fascinating glimpse into the work of legendary songwriter - and Blackwing pencil user - Stephen Sondheim. Shoppers will find writing, drawing and poetry prompt books, as well as listography books designed to help users put their pencils – and ideas - on paper.
"Our goal has always been to be a one-stop resource for the creative mind and this in line with that vision" said Pencils.com founder and President Charles Berolzheimer.
What started as a learning resource for teachers and students has evolved into one of the largest online pencil retailers in the world, emphasizing high quality pencils, notebooks and accessories from some of the world's top brands including General, Derwent and Palomino.
Pencils.com and its online blog "Studio 602" are dedicated to giving customers the information and tools they need to unleash their creativity. Pencils.com is a business unit of California Cedar Products Company, the world's leading manufacturer of wooden pencil slats.
For more information:
Alexander Poirier
Pencils.com
209/932-5008
alexander(at)pencils(dot)com
# # #