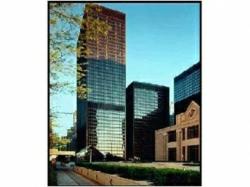 "We're excited about having an expanded presence in Chicago,"
Chicago, IL (PRWEB) August 16, 2012
nGenx, a top provider of hosted virtual desktops and applications, announced today that it has opened a larger office in Chicago, Illinois. Located on the 42nd floor of 205 N. Michigan Avenue, Suite 4200, the Chicago location will serve as the hub for the growing nGenx Sales team.
Emerging as a market leader in desktop virtualization and cloud based application delivery, nGenx has nearly doubled its employee count including the sales team in the past year. Previously nGenx had a presence in Chicago through its temporary office space in the Willis Tower, but with the explosive growth nGenx is experiencing in the desktop as a service industry, a permanent and more established office became necessary. This announcement comes two months after the recent news of nGenx expanding its operations to Austin, Texas. nGenx now has offices in Kansas, Indiana, Texas, California, Kentucky and Illinois.
"We're excited about having an expanded presence in Chicago," says Grant Terrell, Director of Sales. "Our success in this industry has positioned nGenx for expansive growth in all departments, especially sales. Chicago has proven to be an excellent place to hire top technology sales and channel managers and I look forward to continue hiring the best talent that Chicago has to offer. "
As Forbes recently mentioned after Chicago Tech Week, there is a new digital technology startup in Chicago every 48 hours, which is contributing to the growing entrepreneurial tech talent pool. As a very entrepreneurial and agile company, this is a great fit for nGenx to continue to grow their sales team and therefore contributing to Chicago's job growth in the technology sector.
About nGenx
Since its founding in 2000, nGenx has been a pioneer in cloud computing, working with strategic partners such as Microsoft, Citrix, Intuit, Rackspace and others to develop hosted desktops and applications from the cloud. nGenx solutions include nFinity® Desktop, nFinity® Cloud, and nFinity® Apps which provide access to core line of business and Microsoft Office productivity applications. nGenx markets its solutions through a highly robust channel partner program supported by its nGenx Control Panel, a single pane-of-glass provisioning system that provides Partners and enterprise customers with complete control over their IT environments.