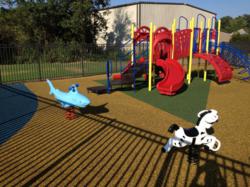 "All learning-emotional, social, motor and cognitive-is accelerated, facilitated, and fueled by the pleasure of play."-SCFFC
Crockett, TX (PRWEB) August 17, 2012
American Parks Company recently joined forces with The Treehouse Academy at Renaissance Center to complete a multiple playground project for their new daycare facility in Crockett, Texas. Through collaboration with the daycare professionals and community as a whole, American Parks Company designed outdoor age-appropriate commercial playground equipment to accommodate children ages three months through 12 years. The project was completed in July and The Treehouse Academy opened its doors on July 30th.
According to The Treehouse Academy, " We are an academically challenging daycare for children three months to 12 years in age. We offer social, emotional, physical, and intellectual learning for all ages. Treehouse Academy is not a school, and it's not just a babysitting service either. We help augment your child's learning in the classroom while you have to be away. The Treehouse Academy offers school-like programs as well as extracurricular activities to help guide children in all aspects of their life."
Among the extracurricular activities at the facility are three playgrounds areas designed by American Parks Company for specific age groups that focus on each groups' needs and interest, and most of all, their safety. Each playground installation was completed with poured in place rubber safety surfacing. Daycare playground equipment provides children of all ages with countless benefits. Properly configured playgrounds can play a role in learning and development through imaginative play, create great places for social interaction and provide a fun way to get physical exercise and develop major muscle groups.
According to a study recently released by The Shasta Children and Families First Commission (SCFFC), "Playgrounds provide crucial and vital opportunities for children to play. There is substantial research showing the clear link between play and brain development, motor-skills, and social capabilities. All learning—emotional, social, motor and cognitive—is accelerated, facilitated, and fueled by the pleasure of play. Playgrounds that promote different types of play are vital for a child's cognitive, emotional, physical, and social development."
The Treehouse Academy embraces this idea. According to their website, "This a place where your child can explore, experiment, and imagine as they learn about their world. Each area—from the playground to the bookshelf—is specifically designed for each age group, to inspire a sense of wonder and promote learning."
American Parks Company has been building better parks for kids of all ages since 2005. They specialize in designing commercial playgrounds for organizations such as daycare centers, churches, schools, non-profit organizations and municipalities. They are honored to have had the opportunity to have their playground equipment chosen to be installed at The Treehouse Academy.
For more information on daycare playground equipment by American Parks Company, visit their website at http://www.AmericanParksCompany.com.