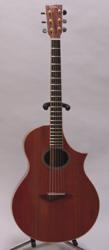 Warm chocolate is perhaps the best way to describe both the appearance as well as the sonics of this unusual instrument.
ST. HELENA, CA (PRWEB) August 16, 2012
Charles Krug-Peter Mondavi Family Winery, Napa Valley's first winery, is auctioning a hand-crafted guitar made from redwood from a historic wine tank, with proceeds to benefit a program which supports students and music in schools. The auction runs through August 31, 2012 at http://www.charleskrug.com.
Affectionately referred to as "B.O.B." because it was built with wood at the "bottom of the barrel" of a 50-plus-year-old redwood fermenting tank from the historic Redwood Cellar on the Charles Krug estate, the guitar is on display in the Charles Krug Tasting Room. Bidders may view the one-of-a-kind instrument on the Charles Krug web site or at the auction site.
B.O.B. was designed, crafted and donated by David Heitzman of the Napa Guitar Company. In Acoustic Guitar magazine Stevie Coyle wrote, "Warm chocolate is perhaps the best way to describe both the appearance as well as the sonics of this unusual instrument." See the guitar being played at http://www.youtube.com/watch?v=64YZdG0k-ZU.
A special label on the inside of the guitar is signed by Peter Mondavi Sr. and sons Marc and Peter Jr. "Everyone connected with the Charles Krug Winery is proud to be able to support this wonderful cause," said Peter Mondavi, Jr., co-proprietor of the winery and a longtime supporter of music education in the schools.
The auction is solely for the benefit of the Music Connection program of the Napa Valley Educational Foundation for children in grades four through twelve. The Music Connection has provided musical instruments and education to students in Napa since 1997. The program serves nearly 3,000 Napa Valley students with nine distinct music education and appreciation programs offered through the Valley's public schools. (Information about the foundation is available at http://www.nvef.org.)
Two complimentary tickets to the annual Tastings on the Lawn at Charles Krug Winery are also included in the package.
The winning bidder will officially be announced at the winery's Tastings on the Lawn event, September 8th, 2012. The annual event, now in its 61st year, offers food, wine, music, and dancing on the great lawn of the historic winery.
To view photos of the Charles Krug Guitar, place a bid, or learn more about Charles Krug Winery and the Peter Mondavi Sr. Family, visit http://www.charleskrug.com.
Interviews with Charles Krug co-proprietor Peter Mondavi Jr. about the guitar project can be arranged by contacting Christine Piccin at piccin(at)mackenzieagency(dot)com.