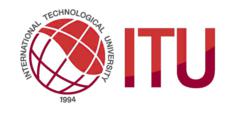 GEMBA students will be part of an outstanding program that enjoys the mixture of cultures, global experience and relevant business practices
San Jose, CA (PRWEB) August 18, 2012
On October 5, 2012, ITU's new Global Executive MBA program begins. For the seasoned manager interested in heightening management experience and global leadership, ITU's Global Executive MBA prepares high-level managers to do business anywhere in the world. The competitively-priced program provides twenty-five students with a global perspective and includes a trip to China.
Cross-cultural interaction and knowledge of international business practices is necessary in the rapidly changing economic landscape. ITU's hyper-focused learning environments help to mold global leaders by presenting real-world business challenges to a diverse set of GEMBA students.
The 1-year program offers interactive, team-oriented learning and completes in a 10-day, multi-city study tour in China. "Our aim is to offer a program that's affordable and convenient. It's designed so that students can build a network of peers in other parts of the world besides the US," says Program Director Dr. Tom Tafolla, J.D.
Typically, Executive MBA tuition ranges from $42,000 to $112,000, but with student debt rising at twice the rate of inflation. To prevent graduates from student loan debt, ITU chose to moderately price their GEMBA program at just $25,000 and did not accept government funding. Rather, students are encouraged to request employer reimbursement or pursue self-financing. Additionally, ITU offers flexible payment plans to give students the option of stretching their repayment over a 25-month period
ITU's accelerated GEMBA coursework is designed with a flexible modular format, making it particularly convenient for commuting students or those who don't want to sacrifice the full-time workweek. Classes are held one weekend per month (Friday, Saturday & Sunday) during the fall and spring trimesters.
"GEMBA students will be part of an outstanding program that enjoys the mixture of cultures, global experience and relevant business practices," states Dr. Amal Mougharbel, ITU's Business Department Chair. "Beyond the practical elements of this business apprenticeship, those who finish the GEMBA program will have taken part in an enriching professional and educational journey that will prove invaluable towards future leadership success in the business world."
The unique program, lead by an outstanding faculty of attorneys, CEOs and more, integrates core aspects of global business including: international economics, strategic marketing/planning, venture initiation, and sustainability. Students can visit Information Nights on August 23 and September 12 from 5PM to 7PM at the ITU Campus. Learn more about Information Nights and Free Business Workshops on topics like Six Sigma and Intellectual Property at: http://www.itu.edu/gemba.
About ITU
ITU is located in Downtown San Jose, offering masters and doctorate degrees in Business Administration. The aim of the department is to deepen student understanding of business practices, so that students are well equipped in tackling challenges as the world of business rapidly evolves around them.
The Department of Business Administration offers the following programs:

MBA, concentrations in Accounting, Enterprise Resource Planning / (Systems, Applications and Products), Finance, Executive MBA,General MBA, Human Resources Management, Hospitality and Tourism Management, Information System Management, International Business, Marketing, and Management.
Joint programs in MBA Bio Management, MBA Healthcare Management, Business Education, Green MBA, Project Management, and Entrepreneurship.
ITU is pre-accredited by the Accrediting Commission for Senior Colleges and Universities of the Western Association of Schools and Colleges (WASC) and is recognized by the Bureau of Private Postsecondary Education (BPPE). WASC Candidacy status places ITU among the recognized list of institutions on the U.S. Department of Education's database of recognized institutions of higher learning and the Council for Higher Education's Listing of Accredited and Candidate Institutions (CHEA).