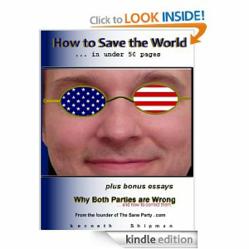 "How to Save the World ... in Under 50 Pages; Why Both Parties Are Wrong" is an elegant, simple equation that just explains it all.
(PRWEB) August 20, 2012
Democrats and Republicans alike are tired of the stereotypes associated with their views, and the resulting "back and forth" governments that plunge society deeper into debt and seemingly no closer to anyone's goal. A new essay focuses on simple logic to reconcile the founding documents of the United States, and finds that our problems may be much easier to solve than current party-line views indicate. According to author Kenneth Shipman, you may not ultimately agree with his vision for the country, but when you're done reading you'll never view the question of society the same way again.
"The responses I've received from both liberal and conservative readers have been phenomenal", he said. "The first thing they've said is that they all read it in one sitting". "The next is that they seem to identify with it, regardless of their party association". "This is the common ground I think all Americans have been waiting for."
When asked how we would summarize the document, he said the following:
"This essay is designed to concisely illuminate and resolve the problems facing the country, and the rest of the world, for that matter, using logic and mathematics fundamentally. But my goal was to present those ideas in the most straightforward way possible, so almost anyone can follow them."
"From the Constitution, to public healthcare, education, welfare, corrections, foreign policy, the Middle East and more, it's all there in one short read. I don't think anyone can read it and not be changed, because it describes the world in a way that just fits the reality that everyone experiences. It's an elegant, simple equation that explains it all."
Shipman recently discussed some of the ideas in the essay on-air with talk-radio host Mark Davis- a frequent fill-in for Rush Limbaugh.
Davis told his audience "My expectations were high, and they were met and perhaps even exceeded". He added "dude knocked it out of the park".
The name of the essay is How to Save the World … in under 50 pages; Why Both Parties are Wrong; available for Kindle.
The essay presents controversial topics like the end of drug prohibition- in a way that is persuasive republicans, and the end of public education- in a way that is persuasive to democrats. These ideas turn conventional thinking about society on its head, in a way that is capable of providing real hope for the future of America, and thus for the rest of the world.
For more information or interview requests with the Author, email iview200(at)thesaneparty(dot)com.