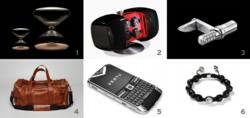 Glam up your man this season with an accessory featured in Westime's Holiday Gift Guide!
Beverly Hills, California (PRWEB) August 16, 2012
Glam up your man this season with an accessory featured in Westime's Holiday Gift Guide! From jetsetters, to businessmen, to dads, Westime has gifts that are appropriate for any guy. Westime's three locations in Southern California carry a wide array of toys for boys including captivating jewelry, fine leather goods, watch winders, and extravagant cell phones. The following products are a select sampling of accessories available at Westime.
Ikepod Hourglass
The Ikepod Hourglass is hand blown from one single piece of borosilicate glass and filled with either nickel, copper or yellow gold-plated nanoballs. 60-minute and 10-minute timers are available.
Buben & Zorweg Watch Winder
Surprise your watch collector with the Buben & Zorweg Phantom 4 watch winder. The design is inspired by a sporty roadster, and its carbon fiber casing opens and closes gently like a convertible.
Roland Iten Ziletto Cufflinks
For the man who wants to impress his colleagues, the Roland Iten Ziletto cufflinks in white gold with diamonds that can be shown or hidden fit the bill! These double-bulleted cufflinks incorporate a high end push-button ejection mechanism and a unique click-controlled, sliding sleeve calibration system.
Ghiso Weekend Bag
Hand-crafted to fit the sophisticated man, the Ghiso Weekend bag is made of a vegetal tanned cowhide. The large travel bag has one external pocket, inside storage compartment and a zipped pocket.
Vertu Constellation Quest
Fit for a man who is on the go, the Vertu Constellation Quest made of stainless steel is a unique phone that offers a personalized concierge service that gives expert assistance, recommendations, and travel suggestions.
Shamballa Bracelet
Fit for a night on the red carpet, the Shamballa bracelets are worn by celebrities such as Jay Z and Rick Ross. The bracelet is an excellent accessory because it comes in several different forms such as plain, faceted, or set with diamonds or crystals.
For pictures and more information on these luxurious products please follow this link:
http://www.westime.com/media/pdf/WestimeHolidayGiftGuide_Men.pdf
About Westime
For more than two decades Westime has distinguished itself as the ultimate retail destination specializing in extraordinary watches and jewelry. Its three boutiques in Southern California—Beverly Hills, Los Angeles and La Jolla--display the collections of more than 50 watch brands that represent the best of traditional watchmaking as well as the new guard in haute horlogerie. Westime is frequently cited as one of a dozen multibrand retailers in the world that influences trends in the watchmaking industry.
Westime also operates the Richard Mille Boutique Beverly Hills on Rodeo Drive, and the Hublot Boutique on Brighton Way in Beverly Hills. For more information, please visit http://www.westime.com.
Contact: Laura Q. Hughes, Director of Communications, T: (310) 205-5555; C: (646) 284-0403; E: laura(at)westime(dot)com