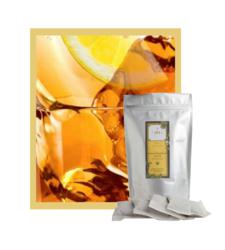 Austin, TX (PRWEB) August 16, 2012
Born under the blazing Texas sun, Zhi Tea knows about heat. Founded in 2007, Austin's premiere organic tea company has been helping tea lovers stay cool for years. This summer, Zhi launched a brand new line of Cold Steeping Kits. Now, everyone can make iced Zhi tea effortlessly!
"June was National Iced Month. While we never need an 'official' reason to drink iced tea here at Zhi, it was a great time to encourage others to start thinking about healthy ways to enjoy the summer," says Dr. Oolong (a.k.a Zhi Co-founder Jeffrey Lorien). "Not only is iced tea refreshing and delicious, research connects tea to mood, weight management and helping your body maintain healthy cells and tissues (think sunburns!). When one packs their bag for the beach, we hope there's some luxurious iced Zhi tea next to the sunblock, the frisbee and their favorite book."
Zhi's Cold Steeping Kits come in 5 organic iced teas:

Classic Black
Hibiscus Mint
White Blueberry
Cherry Sencha
Fredericksburg Peach
Each Kit contains four 1 oz filter pouches of tea and makes 4 half-gallon pitchers. To cold steep, one simply puts the pre-measured pouch of tea into their favorite pitcher. Fill with water, place in the fridge, steep for the recommended number of hours, and voilà! Your tea is ready. No measuring tools, water thermometers or tea pot needed. Delicious, smooth and non-astringent, cold steeped iced tea is an intelligent and luxurious way to stay hydrated this season. Plus, with cold steeping, one doesn't need to even turn on the stove or heat the kettle! "It's Texas. It's summer. Enough said," says Lorien.
This season, Zhi invites you to Pause, Reflect and Connect. "Take care of yourself, share with family and friends, and join in the global community of tea. Dr. Oolong recommends it," Lorien says with a grin.
For more information on the role of tea and health and to purchase your iced tea cold steeping kits, visit http://www.zhitea.com or call 888-944-4832.
About Zhi Tea:
Founded in 2007, Zhi Tea strives to elevate the American tea culture. Specializing in ultra-premium organic and fair trade tea, Zhi seeks exquisite flavor without compromising environmental and social responsibility. Zhi hand blends their original signature teas in small artisan batches and is dedicated to creating positive and memorable tea experiences. Over eighty teas and beautiful tea gifts await at zhitea.com. For updates and tea events, follow Zhi on Facebook!
# # #