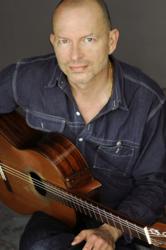 "This multi platinum and gold recording artist is a stunning performer and always a surprise."
Santa Fe, NM (PRWEB) August 16, 2012
'No rain in this music, just poetic sunshine at midnight' - Culture Court
August 16, 2012 - There is a change in the weather and sound for Ottmar Liebert's new release entitled 'Dune.' Magic men are said to be drawn to the desert sands. Sometimes they come as sculptors like Christo that put up strange and beautiful environments that inspire. Sometimes they come as Native American medicine men or old Japanese Kyoto masters to meditate and postulate. And sometimes, just plain and simple great artists disguised as guitar players. Liebert's new release "Dune" sits firmly in the crosshairs of it all. Random beauty – airy, rhythmic and sometimes funky; sounds to put you inside of full and empty spaces, at the same time. Ottmar is always exceptionally brilliant and mysterious, but....
Ottmar has been nominated for 5 Grammy's and has multiple Gold and Platinum records (http://www.ottmarliebert.com/biography/awards.php). He has sold millions of records across the globe. This skilled practitioner of contemporary flamenco guitar is always a surprise. He plays with lots of textures in this set – contrasting traditional and electric instruments and adding accordion, Memphis bass lines, trumpets and a drum machine – in addition to lots of percussion. This release features Ottmar on acoustic and electric guitars; Jon Gagan on acoustic upright bass, electric bass guitars, and keyboards, including clavinet; Char Rothschild on accordion; Robby Rothschild on percussion (Chris Steele on Track 14).
Ottmar adds "I'm following the idea of contrasting traditional and electric instruments like we did on the 'Opium' release. There are also beautiful treatments and sound design by Andrew Gaskins on three tracks. For the opening track, 'Fallin In' (to a dream), for example, I sent Andrew single notes and chords I played on my guitar, which he then stretched and manipulated. (See Ottmar's Diary on this project at http://www.ottmarliebert.com/diary/?p=6574)
Ottmar plays with an Arabic scale he found on the internet on track #3 'Horse', switches between rumba and a 6/8 beat on 'Shadow', records a beautiful piece in 5/4, track #11 'Five Clouds, Lenticular', and trades melodies with the accordion on track 9, 'Smoke' (while Jon plays three basses and a clavinet) - the influences on this project cover the globe, and take you there.
Ottmar: "I wanted to play guitar melodies that sounded 'sung'. For some reason I kept thinking about old jazz and pop crooners. So I sang almost every melody first and then figured out how to play it on guitar."
15 tracks... 13 really, as the first and the last are brief mood locators, in-and-out within the mysterious world of night and shadow. Flamenco noir, a dreamscape... Track 02, 'Shadow', Track 03, 'Horse', Tracks 04 and 05, 'Bridge 1 and 2', and so on as the narrative declares its nocturnal mystery. A horse, a desert, a moon... swirling sand and spiraling smoke and there it is, "the place of power", the Dune.
That's the thing about Ottmar – as you listen, the environment seems to change and the music projects you into a different space. The dreamscape starts and creates room for your own 'Dune' encounter.
Time to come play in the sand with us this Summer / Tour Dates:
JULY & AUGUST 2012 – OTTMAR LIEBERT TOUR DATES
DATE VENUE CITY, STATE
JULY 2012
July 24, 2012 – Tuesday Bing Crosby Theater Spokane, WA
July 25, 2012 – Wednesday Season's Performance Hall Yakima, WA
July 26, 2012 – Thursday Tower Theater Bend, OR
July 27, 2012 – Friday Alberto Rose Theater Portland, OR
July 28, 2012 – Saturday The Triple Door Seattle, WA
July 29, 2012 – Sunday The Triple Door Seattle, WA
July 30, 2012 – Monday Rogue Theater Grants Pass, OR
AUGUST 2012
August 1, 2012 Napa Valley Opera House Napa, CA
August 2 – Thursday Yoshi's San Francisco, CA
August 3 – Friday Yoshi's San Francisco, CA
August 4– Saturday Yoshi's San Francisco, CA
August 5 – Sunday Orange County Fair Costa Mesa, CA
August 6 – Monday Soho Santa Barbara, CA
August 8 – Wednesday Harlow's Sacramento, CA
August 9 – Thursday Livermore PAC Livermore, CA
August 11, – Saturday Anthology San Diego, CA
August 12, – Sunday Anthology San Diego, CA
August 18 – Saturday Soiled Dove Denver, CO
August 19 – Sunday Belly Up Aspen, CO
August 22 – Wednesday Granada Theater Austin, TX
August 24 – Friday One World Theater Austin, TX
August 25 – Saturday Dosey Doe Houston, TX
Katrina Markarian ~ 707.578.6728 ~ 707.480.3373 Cell ~ Katrina(at)pressandrelease(dot)biz
Gaynell Rogers ~ 530.265.2623 ~ 415.298.1114 ~ Gaynell(at)pressandrelease(dot)biz