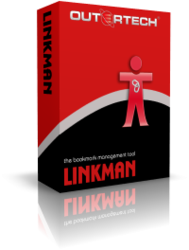 Linkman is by far the best solution we've tried for keeping your bookmarks safe and up to date. CNET review
Coburg, Germany (PRWEB) August 19, 2012
Bookmark manager Linkman is available as version 8.50. Windows 8 is now supported as well as Windows XP, Vista, and Windows 7, and the update improves compatibility with Google Chrome, Firefox, Opera, and Internet Explorer.
Linkman is a browser-independent Internet bookmark manager. It effectively replaces the browser's native URL management system, and speedily organizes and validates very large collections of links. Linkman is available in two editions. Linkman Light is a free edition for educational and private usage. Linkman Pro is a more advanced version that can be also used commercially.
Linkman synchronizes bookmarks across different browsers. When a new bookmark is added in one browser -- Google Chrome, for example -- it is synchronized immediately, and through Linkman Add-ons made available to Firefox, Internet Explorer, and Opera. Linkman Pro also adds support for synchronizing its XML bookmark databases between different computers. It has built-in support for free synchronization services such as Dropbox, Google Drive, Microsoft SkyDrive, Syncplicity, SugarSync, ADrive, Wuala, and others.
Linkman Pro also offers flexibility and privacy-protecting features. It can be installed on a USB stick, where it is fully functional on any Windows computer without installation, and without the need to entrust any personal data to the Internet cloud.
Bookmark databases can be protected by password to maximize user privacy, or, since Linkman can maintain two databases at a time, private links can be outsourced to a separate password-protected database while public links remain freely accessible. Linkman can search both databases at once.
Linkman Light is available for free, but restricted to educational and private usage.
Linkman Pro starts at $24.95 for a single computer. To start a 30-day free Linkman Pro test drive, visit http://www.outertech.com/en/bookmark-manager
About Outertech
Incorporated in 1999, Outertech is a software development company based in Coburg, Germany. Its mission statement is: "To make computers more stable, more useful, faster, and easier to use." Outertech´s lead product is Cacheman (short for Cache Manager), an award-winning Microsoft Windows performance optimization program initially developed in 1996 as the very first Windows optimization software ever. Linkman (short for Link Manager), another major Outertech project, is a bookmark manager that integrates with the Firefox, Internet Explorer, Chrome, and Opera browsers. Initially released in 1997, Linkman´s XML databases have been praised for 15 years of bookmark data security.