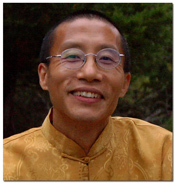 We are capable of being much more active in our own healthcare, if we have the Qigong tools and dedicated practice.
San Francisco, California (PRWEB) August 17, 2012
Master Mingtong Gu will lead a workshop on Qigong for Cancer to help cancer patients, caregivers and wellness professionals. He joins a line-up of leading wellness professionals and medical leaders for a two day informative conference for the public that will explore the alternative cancer therapies that can aid cancer recovery, prevention and treatment. The Annie Appleseed West Coat Evidence-Based Complementary & Alternative Cancer Therapies Conference will be held September 14-15, 2012 at the Conference Center/St. Mary's Cathedral 8am-6pm. Designed for patients, families and wellness professionals, this conference explores alternative cancer therapies from the perspective of top alternative and medical leaders and physicians.
Annie Appleseed is a non-profit organization founded by cancer survivor Ann Fonfa, who used alternative therapies in her own recovery. She created a website to help others have one-stop research to find the therapies that work for them. Appleseed has sponsored this Conference on the East Coast, and this year for the first time is bringing this popular, well-attended event to the West Coast.
Master Gu will explore how Qigong has helped many of his students with their cancer and will demonstrate how to begin a home practice. He encourages his students to become more active in their own cancer recovery, as Qigong can be done in concert with western medicine, helping restore balance and wellness through treatment and recovery. "We are capable of being much more active in our own healthcare, if we have the Qigong tools and dedicated practice. Qigong transforms the body, heart, mind and energy to realize deep intentions of radiant health, true happiness, joy and profound peace. "
Science continues to confirm the positive effects of Qigong on cancer outcomes. "There is a lot of evidence suggesting that Qigong therapy has an inhibitory effect on cancer growth, both in vitro and in vivo studies, as well as in clinical observation." Other research shows improvement in other areas, including weight, strength, appetite, digestion, liver and many other areas. These findings and others can be found at the California-based Qigong Institute (http://www.qigonginstitute.org), which compiles scientific research studies on the effects of Qigong on cancer and many other health conditions.For Conference links visit The Chi Center website at http://www.chicenter.com or Annie Appleseed Project.