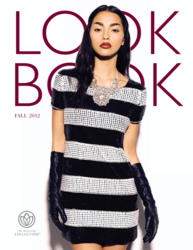 Be inspired by the season's most irresistible trends!
Bellevue, Washington (PRWEB) August 16, 2012
Be inspired by the season's most irresistible trends with The Bellevue Collection's Fall 2012 Look Book. Browse the must-have items and discover all that is fresh for the season.
Official Bellevue Collection trends include:
Oxblood Reds
The color of the season is oxblood. It's dramatic, luxe, and will effortlessly mix into your wardrobe. Let red reign this fall with layers of the sultry color from head to toe.
Fur-get Me Not
From faux to real, fur is getting its perennial spotlight, but not without a twist. Be a fur aficionado this season with fur sleeve jackets, patchwork prints, and bold colors. This isn't your grandmother's fur.
War Horse
Equestrian and military influences collide for a new point of view to these popular trends. Feel at-ease with tailored pieces that showcase refined lines from decorated blazers and slim pants, to riding boots.
Leather Accents
Leather accents give depth to casual staples this fall. Go unconventional with unexpected pops of lavish leather that will elevate your basics from boring to jet set. Ladylike opera gloves are a must with this look.
Prairie Fire
Find yourself at home on the range with rustic yet urban ranch-wear. Pioneer the look with luxe tweeds, draped blanket coats, and flowing fringe. Whether you're walking city streets or sitting fireside, getting in touch with nature has never been so attractive.
Power Suiting
Be as powerful with your wardrobe as your personality is with suits that will have your office look going masculine, without a shortage of feminine edge. Find yourself a tailored muse with the "new" three-piece suit: jacket, skirt, and pants.
Pattern Blocking
Take color blocking to the next level – and don't be shy about it. It's time to mix-up and match-up the multitude of vivid prints and killer patterns of fall for a dynamic look that's wrong in just the right way.
For more details, check out The Bellevue Collection's "Behind the Scenes" video of The Collection's Fall 2012 Look Book photo shoot. See what it takes to make the fashion guide of the season, from hair and makeup to stylists and photographers – it's all there in one irresistible video.
See these trends come to life at Fashion Week at The Bellevue Collection this September. For information, visit bellevuecollection.com/FashionWeek.
About The Bellevue Collection
Located in the heart of Bellevue, Washington, The Bellevue Collection, owned by Kemper Development Company, includes Bellevue Square a super-regional upscale shopping center, Bellevue Place, a mixed-use property featuring the Hyatt Regency Bellevue and small boutiques and Lincoln Square anchored by the Lincoln Square Cinemas, restaurants, home furnishings and The Westin Bellevue hotel. With a distinctive collection of 250 of the finest shops, 23 sit-down restaurants, a 16-screen premier cinema, 1,000 luxury hotel rooms and 10,000 free retail parking spaces, all in one location. The Bellevue Collection is shopping, dining and nightlife and entertainment experience unlike any other in the region. It is located on Bellevue Way between NE 4th and NE 10th Streets in downtown Bellevue, just across Lake Washington from Seattle.