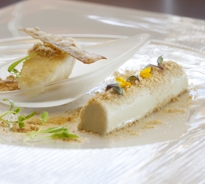 We're proud to represent the Gold Coast on the hot dining list
Surfers Paradise, Queensland (PRWEB) August 22, 2012
One of just five Queensland restaurants and the only Gold Coast restaurant to be recognised, Seaduction Restaurant + Bar has been named in The Australian's 50 Hottest Restaurants list 2012.
Reviewed by a selection of the country's finest winers and diners, the list was compiled by The Australian and based on the places that are must-visits for anyone interested in food and eating out, with judges keeping two key elements in mind; food and fun!
Seaduction Restaurant + Bar is housed within Sea Temple Surfers Paradise. Just six months old, the recent listing comes hot on the trail of the restaurants One Hat award in the 2012 QLD Good Food Guide.
" We're proud to represent the Gold Coast on the hot dining list and help highlight the destination as a dining must do ", says Sea Temple General Manager Simon Brown.
"To be recognised in such a short time of operation, and to be named in the top 50 Hottest restaurants in Australia highlights the talent of our Executive Chef Steve Szabo, our passionate F&B team and the quality of cuisine we're creating, " adds Brown
"This is a list for people who are passionate about restaurants, who are tapped into the dining zeitgeist hungry for intelligence on the subject. The things that matter to us: we admire places that take their work seriously, but we disdain places that take themselves too seriously, that veer into the realm of pretentiousness. "Fun" does not just mean casual: a fine-dining restaurant can be just as pleasurable and stimulating as a boisterous, no-bookings, bare-table affair. But we don't want stiff, starchy places that have no awareness of contemporary food and wine culture, either, " says a list judge for The Australian.
Seaduction Restaurant + Bar is led by Executive Chef Steve Szabo. Well known for his extraordinary gastronomic talents and wealth of experience, his distinctive imagination and well practised methods of preparation put him in good stead in creating the innovative cuisine for Sea Temple's signature restaurant.
Whether it be for breakfast, lunch or dinner, a celebration or event, measured extravagance will be on the menu with a focus on innovative modern cuisine. With its sweeping ocean outlook and iconic location, Seaduction Restaurant + Bar is undoubtedly positioned in one of the most stunning locations of Australia.
Bookings can be made by contacting Sea Temple Surfers Paradise: 07 5635 5700 or visit the Sea Temple Surfers Paradise website.