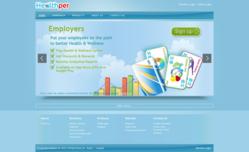 What haven't we done to decrease costs in our companies?" says John Hammitt, President and COO of Healthper, Inc.
Princeton, NJ (PRWEB) August 16, 2012
It's never too late to make a change. Healthper is giving employers, health plans and member organizations the opportunity to transform their population at no cost for their standard health and wellness program. The platform is designed to be user-friendly, fun and insightful. Corporate partners may sign-up using their company credentials and add employees and/or members using the innovative healthngage system tools. Access to healthngage is free and once an invitation is accepted, members can begin their wellness journey instantaneously.
"What haven't we done to decrease costs in our companies?" says John Hammitt, President and COO of Healthper, Inc. "Having held senior level executive positions for one of the largest companies in the world, I know the stress first hand of cost reduction. Cutbacks generally mean loss of jobs. Job loss equals low employee moral. We can turn this negative into a positive by creating a culture of health and well-being through our programs." Hammit and his team have taken health and wellness three steps beyond typical cookie cutter services and incorporated gamification, social networking and vital data to create an essential product that drives participation and produces critical reporting trend analysis.
Not only do employers have the ability to manage their program through the Healthngage system, but administrators have access to real time reporting at their discretion. Management is able to view rolled up population statistics that help to evaluate goals achieved, play and reward statistics, engagement trends, lifestyle development and invitations accepted. The full service health and wellness platform could reduce healthcare costs, improve performance and create a healthier, more engaged population through engagement cards such as stress management, calorie counting, diabetes management, water intake, blood pressure monitoring, sleep tracking and much more. Educational programs available to corporate users and in addition, employees get personalized access to a wide range of gamified tracking and weekly reporting.
About Healthper
Healthper is an innovative health engagement platform, founded in 2010 and developed by the team from CareGain that helped facilitate Health Savings Accounts. Healthper helps drive sustainable long term behavioral changes through its enterprise-ready, social health engagement platform. Healthper is a privately held company based in Princeton, NJ. For more information, please visit: http://www.healthper.com or you may follow us on twitter @healthper.