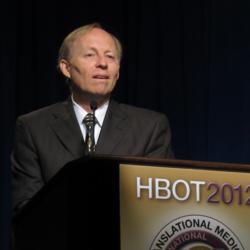 Cancer is, in essence, a genetic disease. HBOT is a genetic treatment.
Long Beach, CA (PRWEB) August 16, 2012
August 2012
At the 2012 International Symposium on Hyperbaric Oxygen Therapy, "HBOT-2012", held this week in Long Beach, CA, local physician, Dr. Paul Harch was recognized with a Lifetime Achievement Award for Cutting Edge Science in Hyperbaric Oxygen Therapy by the International Hyperbaric Medical Association (IHMA).
Dr. Harch was recently in the news for his treatment of local musician, Charmaine Neville who underwent Hyperbaric Oxygen Therapy, or HBOT, after being diagnosed with CADASIL syndrome, normally a debilitating, hereditary disorder that results in strokes of increasing severity. CADASIL syndrome prematurely ended Ms. Neville in the fall of 2011. However, since beginning her hyperbaric oxygen treatments earlier this year Ms. Neville has enjoyed remarkable improvement, returned to performing, and has become a vocal proponent of the therapy.
"Obviously, I'm honored to be recognized in this way," said Harch, "but the privilege of administering a treatment that has helped to improve the quality of life for so many people, that's the real honor. I'm just proud to be a part of it, and I'm humbled by the recognition of our efforts."
Hyperbaric Oxygen Therapy employs pressurized chambers in which the patient undergoes a series of "dives" in pure oxygen at varying depths of pressure, which is measured in atmospheres. Patients usually undergo 5, 1-hour dives each week for 8 weeks in the first round of treatment. After the first round, the physician will determine how many additional dives will be necessary for the patient to achieve the optimal clinical outcome.
Dr. Harch has long been considered a pioneer in hyperbaric medicine research and clinical applications. Author of The Oxygen Revolution, Dr. Harch has written numerous articles on Hyperbaric Oxygen Therapy and has had several writings published in major medical journals. Dr. Harch was responsible for the scientific argument and application to Medicare that resulted in the approval of hyperbaric oxygen treatment of diabetic foot wounds. Based on Dr. Richard Neubauer's work and in conjunction with Dr. Van Meter he has developed many of the accepted protocols for HBOT in neurological disorders, including chronic traumatic brain injury and Post Traumatic Stress Disorder in our military veterans.
For more information on Dr. Harch and his work in Hyperbaric Oxygen Therapy, visit http://www.hbot.com.