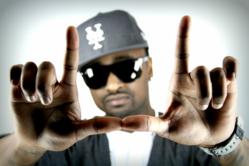 "Musicians from all genres should feel at home when they're at Diamond District."
New York, NY (PRWEB) August 16, 2012
As the music industry continues to adapt to the dynamic marketplace of the 21st century, a Jamaican-born record producer is offering artists a new route to musical independence.
Rsonist, who has composed beats for big-name acts such as Beyoncé, Lil Wayne and Kanye West, is now giving artists from across the musical spectrum a new place to lay down tracks and learn about production. The cutting-edge recording studio, called Diamond District, has opened in Manhattan near the gemstone community for which it takes its name.
The 3,000-square-foot Diamond District studio at Broadway and 52nd Street features two state-of-the-art recording spaces. Studio A runs Pro Tools HD and is optimized for both recording and mixing. Studio B, an intimate room with a personalized feel, is equipped with the latest outboard recording gear and will use its cache of Neumann microphones to capture vocal and instrumental performances.
"Musicians from all genres should feel at home when they're at Diamond District," said Rsonist, co-owner of the Manhattan business. "We've created an environment from a musician's perspective. So whether you're in a rock band or hip-hop group, not only will you get premium sound, but you'll get a real understanding of your needs as a creative artist."
In addition to booking recording sessions, Rsonist and his business partners, Reggie "Gabe" Scales and Rob "Lael" Williams, are launching innovative production and beat-making classes at Diamond District, with the goal of nurturing up-and-coming talent.
The Heatmakerz recently finished work on Kanye West's new album and are currently working on songs with DJ Khaled, among others.
Rsonist will be available for interviews and photo opportunities beginning August 20th, 2012.