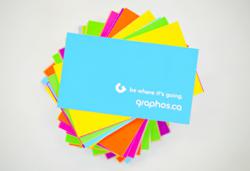 An online entrepreneur needs to get operational fast, be near-perfect, and work tirelessly on what's next. Graphos' Major Projects Division is designed with this in mind.
Edmonton, AB (PRWEB) August 17, 2012
The marketing landscape has changed radically since Graphos entered in the early 1990s. Back then, online businesses did not exist, while social media and mobile apps were miles from anyone's radar. The Edmonton-based firm, now a leader in all these realms, today unveiled a redesigned brand identity and a new "Major Projects Division" geared to creating large-scale, fully integrated online businesses.
"Disruptive innovation is the battle cry of today's entrepreneur, and we've structured our service offering to help those clients start further ahead," says Graphos president and founder Laurier Mandin. "Our new tagline is Be Where It's Going, because that's become essential with the mind-boggling speed technology moves today. Clients worry that big projects traditionally take so long to complete, by the time launch day arrives everything may have changed and now they're playing catch-up. An online entrepreneur needs to get operational, be near-perfect, and work tirelessly on what's next."
Graphos has helped clients do just this with projects like The BiLLe, which Mr. Mandin calls "the biggest game of all," and the new Major Projects Division is already working on similar achievements for a handful or other clients.
"With The BiLLe, we orchestrated the visual design, marketing and complete infrastructure for a global lotto with an unimaginable jackpot of up to a billion Euros every week, and also built mobile apps for iPhone, iPad and Android, launched a global ad campaign and are helping the client move rapidly towards goals critics said were impossible," Graphos creative director Michel Feist says. "Every week the site is a little different, a little better. We're now working on new mobile apps, better social sharing features and tweaks to the user experience."
Major projects in development are protected by a strict confidentiality policy, but include healthcare, tourism, heavy industry and energy, Ms. Feist says.
The new Graphos logo, with its unique hand-rendered wordmark, wields a palette of six vivid corporate colours and is accompanied by a stylized G form, rotated to invoke a forward-pointing arrow.
Graphos has offices in downtown Edmonton and Calgary, and offers a full complement of creative services in addition to web, smartphone app and mobile website development, including branding, advertising, social media marketing, search engine optimization and print.
For more information, contact Laurier Mandin at (780) 990-1991 x223