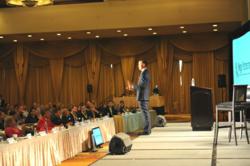 Los Angeles, CA (PRWEB) August 27, 2012
The JT Foxx Organization is proud to announce that their Mini-Mega Partnering Summer of Success Series is being extended through the fall of 2012.
With successful events unfolding across the U.S. and in Canada, 2012's Mini-Mega Partnering series has been the organization's biggest to date, drawing in record numbers and infusing thousands of investors and entrepreneurs with A-Player advice and strategies that produce results.
The Mini-Mega Partnering series will continue through the fall of 2012, with more dates being added throughout the U.S. and Canada. Upcoming dates include Portland, September 7-9; Los Angeles, September 15-16; and two international dates, Vancouver, September 22-23 and Montreal (Mini-Mega Partnering founder JT Foxx's hometown) on October 4-5.
Additional dates will be announced as they become available.
To learn more about the upcoming Mini-Mega Partnering events taking place, please visit our site, or call (877) 204-1411.
About Mini-Mega Partnering
Mini-Mega Partnering is the baby brother of Mega Partnering. Mega Partnering is the World's #1 Wealth Networking and Business Conference. 
The vision behind Mini-Mega Partnering is to expose attendees to successful local entrepreneurs, investors and others looking to network, start, grow or explode an existing business. Tickets to all Mini-Mega partnering events are complimentary.
There are 9 Mini-Mega events taking place this summer, throughout the U.S. and Canada.