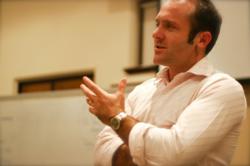 "Many young women are on the fast-track for major disappointment."
(PRWEB) August 18, 2012
In a new book provocatively titled, 'How To Get The Man Of Your Dreams, education expert Jonathan Doyle argues that some of the major changes in developed societies over the last 50 years mean that many young women are facing the very real possibility that they may never find the life partner they seek.
Drawing on the work of sociologists like Kay Hymowitz, Doyle suggests that alpha males tend to partner early in life leaving a large pool of less desirable males for a relatively larger pool of young women.
Doyle states, "We do know that young women are wiping the floor with young men both in undergraduate and graduate university programs. It seems that in their late twenties and early thirties they then look around for the ideal male to complete their life plan and suddenly find a large pool of 'man-boys' who are essentially teenagers in adult male bodies. What follows is a life of speed dating and Facebook desperation in the hope that they can beat the count of a ticking biological clock."
Significant research continues to demonstrate that stable marriage remains the ultimate wealth creating vehicle. Married couples accumulate wealth in a different way to singles and cohabiting couples tend to only accumulate wealth at the rate of singles. Doyle uses all this data and the experience of having delivered live seminars to over a quarter of a million people to argue a compelling case for young women to be increasingly proactive and selective in their dating relationships.
He says, " Many young women seem to become sexually active in relationships at an early stage in the assumption it will make the relationship stronger and more stable. The results seem to be more than a little deflating over the medium to long term for many of them. Essentially, young men rarely value what they get easily."
The book provides a series of key insights into how the modern young male conceptualises relationships as well as exploring the impact upon them of absent fathers and a sexual formation via Internet based pornography. It then provides a series of steps by which young women can begin the process of creating genuine change.
Doyle concludes, "Nothing I suggest in the book is going to be easy to accomplish. In fact, I think some of it could be quite confronting.That said, I think enough young women have experienced enough pain and heartache to be ready to do what it takes to develop the relationships they deserve."