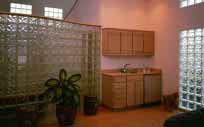 We have a large number of contractors that utilize our cost and time effective products
Morris, Illinois (PRWEB) August 16, 2012
While there were signs that the cost of construction materials was moderating at the beginning of 2012, prices rose 4.5% over the previous 12 months, a rate higher than the increase in the overall producer price index for finished goods, according to a report recently released by the Associated General Contractors of America. Over the previous year, prices for certain materials (such as diesel fuel, tires, insulation, gypsum, and steel) increased at rates far higher than the general inflation rate, and that oil and diesel prices have moved up significantly since the start of 2012.
Quality Glass Block and Window Co. have increasingly sought ways to improve their level of service; by keeping price increases to a minimum, offering discounted prices for contractors and property owners and even providing free delivery within a thirty mile radius of their Morris location. With glass block at the forefront of this company's business, there doesn't seem to be a glass block product not listed in their vast inventory list. From multiple sizes and patterns of individual glass block to pre made glass block windows and vinyl wrapped glass block windows.
"We have a large number of contractors that utilize our cost and time effective products", states Ray Tuminello, president of Quality Glass Block and Window Co. "By purchasing our pre made glass block windows or glass block kits, the contractor is spared from having to install block by block while saving money from not having to purchase smaller necessary installation tools". When asked what contractors loved most about Quality Glass Block and Window Co. Tuminello had this to say; "Our free delivery radius definitely saves the contractors so much time by not having to find time to transport the glass block windows. Plus, they are saving money on gas, payroll and not to mention the hazards associated with transporting glass block windows".
If all of the perks above weren't enough, this company also offers free design and layout assistance. Simply let them know the dimensions needed for glass block windows or a glass block shower enclosure. They will do all the calculations to provide contractors with the glass blocks needed and the cost of all the materials to get the job done. "Of course, if the contractor would like to save even more time and money, they are welcome to sub contract the glass block install to us so they can focus on the rest of the renovations or even other customers of theirs", said Tuminello.
Quality Glass Block and Window Co. have really set the bar for customer service. With everything they offer and do for their customers, it is no surprise they have become the Midwest's premier glass block supplier.
Quality Glass Block & Window Co. (http://www.qualityglassblock.com) is a leading provider of glass blocks used for windows, shower enclosures and vents. In addition to wholesale glass blocks, Quality Glass Block & Window provides installation services or guidance for do-it-yourself builders and homeowners.
For more information regarding glass block and glass block kits, contact Quality Glass Block and Window Company.
Chris Danek General Manager
Phone 815-416-1007
Fax 815-416-1044