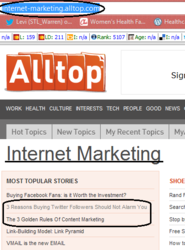 Ottawa, ON (PRWEB) August 16, 2012
Buy Real Marketing is proud to be approved and even featured on Alltop blog. The http://blog.buyrealmarketing.com/ is currently one of the blogs listed on this so-called online magazine rack and recently the blog articles entitled, "3 Reasons Buying Twitter Followers Should Not Alarm You" and "Spice Girls Reunite at the London Olympics Closing Ceremonies." Two entirely different subjects featured under the category of Internet Marketing, where Buy Real Marketing has always wanted to top on.
Alltop.com is one of the widely known content aggregator on the web that most online publishers and bloggers trust. Buy Real Marketing is one of those content publishers that find Alltop blog as one wonderful source of internet buzz.
The internet is full of content from creative creators, whether they are bloggers, copywriters, graphic artists, and video or music creators. With millions of information, online users find it hard to keep up and select the best website to gain necessary knowledge from on different subjects. Alltop.com had it all figured out.
Guy Kawasaki, the man behind Alltop has recreated a social media-like environment that takes user-centered behavior to a more professional level than what people usually see on Twitter or Facebook.
Buy Real Marketing prided itself in creating quality and up to date contents that provide value to the online community, most especially to their clients and regular readers. The internet marketing company advocates the importance of content not only for its search engine advantage but as complement to the services they are offering such as Twitter followers, YouTube views, Vimeo views and SoundCloud plays.
Buy Real Marketing views Alltop blog as a great online community for professional content creators. The company is particularly impressed with the way the web content aggregator built a smart classification method that lets users choose how they want to discover content: A-Z, topic and category. The company will continue to pursue creating great articles for users as well as to repeat the opportunity of exposure Alltop.com has given.
To know more about the company's services, visit their website at http://www.buyrealmarketing.com or contact them at 1-877-435-5955.
About
Buy Real Marketing is owned by Clicking Labs. Clicking Labs is a well-established internet marketing company founded in 2010 by Jean-Patrick Bisson, Diana Quartin and Jonathan Kennedy. The company specializes in driving search marketing and social media traffic, social web app development and conversion optimization. Each product or service specifically helps small/medium website owners increase online visibility and improve online sales.
###