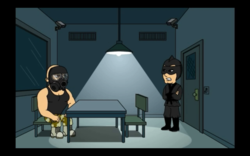 The animated series was made to promote the website through online video through YouTube's gigantic user base.
Los Angeles, CA (PRWEB) August 21, 2012
Online shirt design retailer Mr. Tees announced that they just released the second episode of their series of animated web videos on YouTube and other channels. The animated series was made to promote the website and funny tees through online video through YouTube's gigantic user base.
The second animated video for Mr. Tees was launched along with the announcement and is now available for viewing on YouTube. The video features a parody of the recent blockbuster film The Dark Knight Rises and stars imitations of that film's characters.
In the video, we see the "Police Commissioner" on a rooftop surrounded bythe cityscape, under the light of a full moon. He anxiously waiting for someone to meet him when behind him appears "Sharkman," named for the single fin on top of his cowl. The video also features a character that resembles another cast member of The Dark Knight Rises, Bane.
Video Description:
"The Shark Knight and the Darkham police force is in search of a mysterious and powerful Source. Commissioner Norton awaits the arrival of Sharkman, who had just interrogated the international terrorist, Pane. He reveals an important clue to the whereabouts of The Source."
The video is created by the website's managing company Impact1, which recently appointed a new Chief Executive Officer Carson Mitchell. The department responsible for creating the video series is headed by the company's lead web developer Ken Morales, and head writer Miguel Sebastian, who is also the head creative officer for the company.
The video series will continue next week with another video featuring more of the website's products and services.
Impact1 also manages and runs online marketing campaigns for various other websites. The company has successfully improved on these sites' overall design and pushed their rankings in search engines according to their respective industries.
About Mr. Tees
MrTees.com is an online shirt seller that caters to mass orders of funny and cool tees of the finest quality. They have the lowest prices and use only the most trusted carriers for the safety of your orders. The company also boasts excellent customer service.