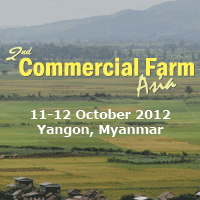 To provide a comprehensive overview of Asia's flourishing agricultural sector, Ministry officials and high-level authorities will convene at CMT's 2nd Commercial Farm Asia in Yangon.
Yangon, Myanmar (PRWEB) August 22, 2012
Amidst new reforms and easing of sanctions, Myanmar's economy is facing significant changes. Its agricultural sector has particularly captured the interest of investors as Myanmar has ample water resources and good climate which are favourable for agriculture investment. Agriculture is a major industry in Myanmar, which employs about 70% of the nation's workforce. The potential for agricultural investment is tremendous, ranging from farm investment to supply of input materials, farm equipment and development of downstream processing industry.
To provide a comprehensive overview of Asia's flourishing agricultural sector, Ministry officials and high-level authorities will convene at the 2nd Commercial Farm Asia in Yangon.
From 11-12 October 2012, the summit organized by Centre for Management Technology will open with an address by a top official from the Ministry of Agriculture & Irrigation, Myanmar. This will be followed by more official talks by Myanmar's Ministry of Agriculture and Irrigation, Directorate of Investment & Company Administration (DICA), Office of the President, Republic of the Union of Myanmar, Ministry of Agriculture, Indonesia and Ministry of Agriculture and Forestry, Laos. Crucial topics such as "Agriculture investment opportunity in Myanmar", Procedure and guidelines for setting up commercial farm and related business in Myanmar", "Economic reform and development in Myanmar", and "Prospect of agricultural investments in Laos" will be discussed.
Themed "Making Inroads into Asia's Awakened Tiger for Sustainable Agri Investments!", the 2 day summit will host eminent authorities from Kelvin Chia Yangon Ltd, Myanmar Rubber Planters & Producers Association, Myanmar Plantation Management & Advisory Co. Ltd, Plantation Resources Private, Limited, P&A Asia, Aung Naing Thitsar Co., Ltd, Myanmar Sugarcane & Sugar Related Manufacturers & Traders Association, Supreme Bio-Tech Group, and Post-Harvest Technology Application Center, Ministry of Commerce. These experts will present the latest updates on Fallow Land Law in Myanmar, and speak on cutting-edge subjects on oil palm & rubber investments in Myanmar, biofuel crops investment in Myanmar, share insight on legal issues and commodities trading, as well provide an in depth talk on prospects of sugarcane industry, downstream processing, agriculture input materials, and post-harvesting management in Myanmar.
Given that farming plays a significant role in the Asian economy, the conference will also spotlight on key related matters in Myanmar, Laos, Indonesia, Cambodia and Thailand including investment prospects, markets, sustainable agriculture developments, adoption of new technology for food trade, Asia's role in food security and much more. Major industry leaders and agri experts presenting at the conference are FAO Regional Office for Asia and the Pacific, Thai Hua Rubber Public Co., Ltd, Hakan Agro DMCC, International Pulses trade & Industry confederation, CropLife Asia, Leopard Capital Cambodia, SGS Group, and Netafim.
According to government statistics, Myanmar is known to have the world's highest annual rice consumption at 210 kg per person, as reported by Reuters. At the 2nd Commercial Farm Asia, Mr. Ye Min Aung, Secretary General of the Myanmar Rice Industry Association and Mr. Alex Merge, Global Head Rice Seed & Trait from Bayer CropScience will impart an outline of the rice output, plans for investment and trade, examining yield and profitability potential, and rice seed import regulation in SE Asia. They will speak extensively on the topics "Reviving the Rice Industry in Myanmar" and "Update & Development of Hybrid Rice" respectively.
2nd Commercial Farm Asia] will bring together key decision makers of major conglomerates, ranging from core and allied sectors including investors, risk management specialists, financiers, suppliers and technology providers, providing insight on the critical opportunities and the true potential of Myanmar's commercial farming industry.
The summit is to be held from 11-12 October 2012 at ParkRoyal Yangon. More information on the programme is available on the event website at http://www.cmtevents.com/aboutevent.aspx?ev=121040& . Further enquiries may be forwarded to Ms. Grace at grace(at)cmtsp(dot)com(dot)sg, at Tel. 65 6346 9147.