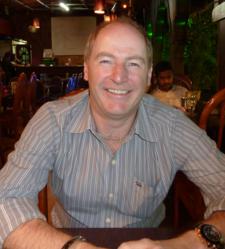 The English Stieg Larsson
London (PRWEB UK) 21 August 2012
A Hierarchy of Reason, the latest high octane thriller from rising star Norris, is now available after several false starts. Belvedere Publishing took the decision to delay publication in case the controversial nature of the story gave ideas to potential activists during the Queen's Jubilee or in the run up to the Olympics.
A Hierarchy of Reason is the second in a series of political thrillers and deals with a terrorist group which attempts to hold the British Government to ransom.
The novel was originally scheduled for release in the spring but the date was put back until early August.
"Belvedere at first told me it was due to further editing work being undertaken," said Mr Norris. "But I do know they were very nervous about the nature of the story from the beginning."
The plot contains details of highly original terrorist threat and the devastation it causes. S G Norris is not one to avoid topical issues, his previous novel, A Very English Revolution, predicted the London riots and the rise of a right wing fascist party.
"Perhaps they think I must be a bit psychic," joked Norris. "Only this time I guess they were not prepared to take the risk."
Critics have hailed Mr Norris as the English successor to Stieg Larsson.
Commissioning editor for Belvedere Publishing, Claire Ashton, stated, "We were mindful of the delicate timing of Mr Norris's book and although we may be seen as being over cautious we felt it was important to avoid causing any potential problems."
A Hierarchy of Reason was eventually published just as the Olympics were getting underway and has already begun to garner praise for its brave concepts and audacious plot.
Mr Norris is now conducting a series of 'Pop Up Bookshops' to further promote the book.
Hierarchy of reason is published by Belvedere Publishing and is available in all good bookshops and online as both paperback and in all major e-book formats.
SG Norris can be contacted via his website at http://www.sgnorris.co.uk
Belvedere Publishing can be contacted at their website http://www.belvederepublishing.com