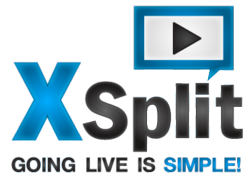 XSplit Broadcaster is one of the world's most popular broadcast and live streaming applications with a user base ranging from teenage hobbyists to professional casters.
Hong Kong (PRWEB) August 16, 2012
SplitmediaLabs announced today that it has entered into a licensing agreement with AVerMedia, one of the world's leading manufacturers of professional and consumer oriented capture cards. As part of this license agreement, AVerMedia has started shipping a 3-month XSplit Premium license with their latest and greatest capture cards for gamers – the Live Gamer HD C985 capture card.
XSplit Broadcaster is one of the world's most widespread and easy-to-use broadcasting and live streaming applications. XSplit allows users to produce TV-like live internet video streams using public or private networks. It has built-in support and automatic configuration for popular eSports and social streaming services like Twitch.tv, Own3D.tv, Justin.tv, Livestream.com, and UStream.tv.
"We have seen a soaring demand for our capture card products in the gaming community, and in recognition of how XSplit Broadcaster has become the de facto standard for video game streaming, we saw a great opportunity to team up with SplitmediaLabs and the XSplit team to give our customers even more than what they bargained for. For the upcoming version of 1.1 of XSplit, we worked closely with the XSplit team on the integration of XSplit with the advanced functions of the new Live Gamer HD C985. Shipping an XSplit license to our customers who purchased the Live Gamer HD C985 provides them a 360° solution for streaming video games on PCs and consoles," says AVerMedia Product Manager, HungSheng Su.
AVerMedia started shipping the Live Gamer HD C985 along with a free XSplit 3-month License since early July 2012. The new powerful card has been well received, but users will have to wait for the upcoming XSplit 1.1 release expected later in August, to try out the encoder functions with XSplit.
"The Live Gamer HD is more than just a capture card – it is a raw frame capture card with a built-in hardware encoder. Combined with XSplit 1.1, this card gives users some very exciting new possibilities. For casters and gamers with high PC specs, the card is ideal for recording in high quality at high bitrates while simultaneously using XSplit's built-in x264 encoder for live streaming.
For users with more modest PC specifications, it's a gift sent from heaven. Users with medium to low-end CPUs can utilize the C985's hardware encoder for the actual stream encoding; thus, preventing CPU overload," says SplitmediaLabs CEO, Henrik Levring.
ABOUT XSPLIT BROADCASTER
XSplit Broadcaster is one of the world's most popular broadcast and live streaming applications with a user base ranging from teenage hobbyists to professional casters. It allows users to stream presentations and live gameplay while taking advantage of TV-like broadcasting features that anyone can learn to master. Since its public beta release in November 2010, the product has become the de facto standard for Internet live stream production in many areas, including social and professional video game broadcasting. XSplit Broadcaster is developed, published, and distributed by SplitmediaLabs.
Go to http://www.xsplit.com to try out the latest version of XSplit Broadcaster today!
ABOUT SPLITMEDIALABS LIMITED
SplitmediaLabs Limited is an innovative, Hong Kong-based software company specializing in the development of applications and technology that enables rich media to be used for visual presentation and communication. Since its inception in late 2009, SplitmediaLabs has published 3 extensive multimedia toolkits which have been licensed to some of the world's most prominent companies, some of which are included in the Fortune 500 list. XSplit Broadcaster is the company's first consumer application, developed and published exclusively by SplitmediaLabs Limited.
REVIEW OR PRESS
Please contact: press (at) splitmedialabs (dot) com
CONSUMER AND CORPORATE XSPLIT VOLUME LICENSING
Please contact: license (at) xsplit (dot) com
ENTERPRISE WHITE LABEL LICENSING OR SYSTEMS INTEGRATION
Please contact: licenseinfo (at) xsplit (dot) com
ABOUT AVERMEDIA TECHNOLOGIES, INC
AVerMedia Technologies, Inc. is one of the world's leading designers and manufacturers of digital multimedia devices. Alongside a full line of TV tuners and personal video recorders, AVerMedia provides high quality video capture, converting and streaming devices for consumer, corporate and industrial markets. AVerMedia is a publicly traded company with its corporate headquarters in Taiwan and with branches in the USA, Japan, Mainland China, and 8 other countries worldwide. AVerMedia employs more than 1300 employees worldwide engaged in research and development, manufacturing and sales.
AVerMedia's corporate goal is to enrich entertainment experience and promote effective communication among people. The company has a strong focus on giving back to the community, by supporting local, national, and international causes and charities.
ABOUT C985 LIVE GAMER HD
With its beautiful design and innovative features, the C985 Live Gamer HD capture has already received several awards and glowing reviews from users and experts alike. The C985 is one of the world's first raw- frame full HD capture cards able to capture and encode at high frame rates. The C985 ships with AVerMedia's RECentral capture and recording application, and includes a 3-month full premium license for XSplit Broadcaster.