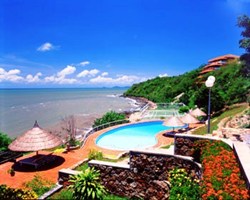 At present, Vietsmile Travel is offering the package of Phu Quoc Beach in 4 days and 3 nights at the price of $195 - $ 235.
(PRWEB) August 17, 2012
Book tours in Phu Quoc now to get great deals offered by Vietsmile Travel
With the development of tourism, many travel services have been emerging in the recent time. Smile Travel Vietnam, the leading online service in Vietnam, doing its effort to compete with others and attract more customers. Lately, it has launched a variety of promotion programs, which aim to cater for both domestic and international tourists. In particular, all tours in various spots are offered with great deals and the discount on tour packages can rise up to 50 %. Accordingly, such a famous tourist attraction as Phu Quoc Island is getting more and more visitors thanks to the awesome beauty of the place and the cheap price of the tour packages.
Phu Quoc, also known as Pearl Island, is the largest island of Vietnam. Floating in the Gulf Thailand, Phu Quoc Island owns the total area of 589.23 square kilometers. The island is lined with a mountainous ridge including 99 peaks, the tallest one of which is Chua Mountain with the height of 603 meters.
It has long been a splendid tropical getaway, which is created with beautiful white-sand beaches and fishing villages and lined with coconut trees. In fact, many tourists fall in love with the island since it owns the untouched environment, stunning beaches, fresh air, coral offshore, various wildlife species, friendly local residents, as well as popular scuba diving and snorkeling activities. The island also has many harbors such as Hon Thom, An Thoi, and Phu Quoc Prison. The large forests here are the homes of valuable wood and animals.
Not only does its landscape lure numerous visitors but its cuisine and specialty also impress them. Fish sauce and black pepper are the two renowned traditional products. Reaching the island, tourists will have chances to experience Vietnamese culture at the local market. Besides, they can enjoy a great dinner at one of the restaurants in the evenings and experience good nights in the comfortable hotels and resorts. In spite of being a new beauty spot in Vietnam, Phu Quoc welcomes millions of tourists annually, 50 % of which are foreign visitors.
Especially, the island has a unique species of dogs, which has a ridge of hair running along its back opposite to the rest of the coat. Therefore, it must be an ideal paradise for dog lovers. Much of this island's nature is still protected. Around 70% of the island has become a national park. The greatest time for visitors is autumn, when the sky is blue and the sea is calm. Indeed, many Thailand travelers say: "The island of Phu Quoc is still natural and untouched like Phuket 20 years ago". Moreover, a golf course and a casino are being built to complete the tourism infrastructure of the island.
If tourists love the untouched nature, they should book tours in Phu Quoc Island. It is really convenient for tourists to arrive in this island as it has the own airport linking to Tan Son Nhat Airport in Ho Chi Minh City. At present, Vietsmile Travel is offering the package of Phu Quoc Beach in 4 days and 3 nights at the price of $195 - $ 235. It is sure that customers will get the cheapest tour package with the best service ever. Book now to have chance discover Pearl Island with the cheap price.