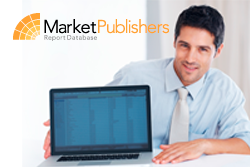 London, UK (PRWEB) August 16, 2012
The weight management industry is a successful field for business at the moment with the demand growing substantially in all the developed, and partially, developing countries. European market is one of the leaders here, developing along with the awareness growth and changing consumer choices.
New market research report "Europe Weight Management Market - Services, Supplements, Diet, Equipment And Devices Analysis And Forecasts, 2007 - 2015" prepared by Transparency Market Research has been recently published by Market Publishers Ltd.
Report Details:
Title: Europe Weight Management Market - Services, Supplements, Diet, Equipment And Devices Analysis And Forecasts, 2007 - 2015
Published: July, 2012
Pages: 105
Price: US$ 4,395
http://marketpublishers.com/report/medicine_pharmaceuticals_biotechnology/healthcare_equipment_services/europe_weight_management_market_services_supplements_diet_equipment_n_devices_analysis_n_forecasts_2007_2015.html
The report features an extensive analysis of the weight management industry, current market trends, industry drivers and challenges, for a better understanding of the market structure. The report has segregated the weight management industry in terms of its product types, end-use segments and geography.
Report Contents:
CHAPTER 1 INTRODUCTION
1.1 Key Take-Aways
1.2 Report Description
1.3 Markets Covered
1.4 Research Methodology
1.5 Stakeholders
CHAPTER 2 EXECUTIVE SUMMARY
CHAPTER 3 MARKET OVERVIEW
3.1 Need For Managing Weight
3.2 Weight Management – Segmentation
3.2.1 Weight Management Services
3.2.2 Weight Loss Supplements/Drugs
3.2.3 Food (Diet Management) & Related Low-Calorie Beverages
3.2.4 Exercise Equipment & Devices
3.3 Consolidated Projections
CHAPTER 4 WEIGHT MANAGEMENT MARKET: EUROPE
4.1 Overview
4.2 Drivers
4.2.1 Ageing Population
4.2.2 Negative Impact Of Obesity On Health Is Driving Weight Management Market
4.2.3 Sedentary And Stressful Life Style Demands Weight Management Techniques
4.2.4 People Obsessed With Fitness Trend Of Glamorous World Drive The Weight Supplements Drugs
4.2.5 Rise In Consumers Purchasing Power Will Drive Weight Management Market
4.2.6 Innovation And Pricing
4.2.7 Government Organization Promoting Fitness Programs
4.3 Restraints
4.3.1 Low Cost Alternatives
4.3.2 Under Performance Of Drugs Compared To Consumer's Expectations
4.3.3 Unethical Marketing Tactics
4.3.4 Lack Of Scientific Evidence
4.3.5 Customization Costs
4.4 Opportunities
4.4.1 More Than 2/3rd Of Companies Do Not Have Proper Set Procedures To Deal With Work Related Stress
4.5 Market Size And Forecast 2007 – 2015
CHAPTER 5 WEIGHT MANAGEMENT SERVICES MARKET: EUROPE
5.1 Weight Management Services In Europe
5.2 Drivers & Constraints
5.3 Food & Diet Segment
5.3.1 Organic And Herbal Food Chain
5.3.2 Fast (Diet) Food Services
5.4 Weight Loss Segment
5.4.1 Slimming Resorts
5.4.2 Clinical Guidance Based Weight Loss Programs
5.4.3 Attitudinal Transformation Programs
5.5 Health Clubs
5.6 Invasive & Non-Invasive Surgery
5.6.1 Invasive Methods
5.6.1.1 Liposuction
5.6.1.2 Bariatric Surgery
5.6.2 Non-Invasive Methods
5.7 Professional Services
5.7.1 Personal Trainers
5.7.2 Dietician
5.7.3 Doctors
5.8 Diet Food – Home Delivery Services
5.9 Dietary Services & Consultation
5.9.1 Tele-Shopping Services
5.9.2 Tele-Consulting And Other Services
5.10 Competition In The Market
5.11 Weight Management Market – Special Focus: France
5.11.1 Market Overview
5.11.2 Market Size And Forecast
5.11.3 Weight Management Services Market Trend In France
5.11.4 Drivers And Challenges For Weight Management Services Market In France
5.1 Weight Management Market – Special Focus: Uk
5.1.1 Market Trends
5.1.2 Market Size And Forecast
CHAPTER 6 COMPANY PROFILES
6.1 E-Diets.Com
6.1.1 Company Overview
6.1.2 Financial Overview
6.1.3 Products And Services
6.1.4 Swot Analysis
6.2 Herbalife
6.2.1 Company Overview
6.2.2 Financial Overview
6.2.3 Products And Services
6.2.4 Swot Analysis
6.3 Smith & Nephew
6.3.1 Company Overview
6.3.2 Financial Overview
6.3.3 Products & Services
6.3.4 Swot Analysis
…
More new market research reports by the publisher can be found at Transparency Market Research page.