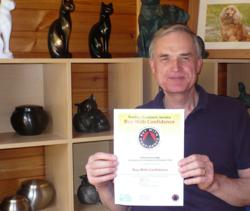 We always work as if the pet owner is standing next to us.
East Grinstead, West Sussex (PRWEB UK) 20 August 2012
A Sussex pet crematorium has been officially recognised for its commitment to fair trading and quality customer service.
Chestnut Lodge Pet Crematorium and Pet Cemetery, in East Grinstead, has achieved approval under the West Sussex County Council 'Buy With Confidence' scheme, managed by the trading standards department.
The accolade means that customers can be confident that Chestnut Lodge Pet Crematorium has passed a series of stringent checks to satisfy trading standards chiefs that its staff are competent and well-trained, that its previous customers are satisfied with the service they have received and that it complies with the spirit as well as the letter of the law.
This is particularly important in the pet cremation industry - which is largely unregulated. Pet crematoria are only controlled as waste plants under environmental laws.
Stephen Mayles, owner of Chestnut Lodge, said: "This lack of legal protection for bereaved pet owners mean they rely totally on the honesty and integrity of pet crematoria to handle their pets in the way they would wish and to provide a genuine service that matches the customer's expectations."
He added: "The 'Buy With Confidence' scheme really fits well with everything we have devoted our lives to. We supplied trading standards with all our detailed procedures and we explained the practical side of what we do. Our website and brochures all give exact details of the services we carry out so pet owners can be in no doubt about the service they are getting. This is very important to us as our job is to ease the burden on people when they lose their pet and to give them confidence that their pet not only receives a genuine cremation or burial service but is also handled with care and respect at all times."
Pet owners can complain under consumer protection regulations if, for example, their pets are mass cremated when they have paid for an individual service – but because everything is carried out behind closed doors, people are unlikely to learn they have been misled.
Some rogue traders have been found out when pet ashes have been analysed and it has been proved that they are not the remains of one pet – or in some cases not properly-cremated animal remains at all.
Stephen said: "Our doors are always open to anyone who wants to see what we do and our first golden rule is that we always work as if the pet owner is standing next to us. Unlike many of the commercial veterinary services we do not have one standard for people coming to us direct and another for collections from vets. Everyone is the same to us. That is what fair trading is all about and why we are so pleased that trading standards are now taking an interest."
Stephen is also a Director of the Association of Private Pet Cemeteries and Crematoria (APPCC) whose members voluntarily observe a strict code of conduct of their own.
He added: "I hope people will see that together the APPCC code of conduct and the trading standards' 'Buy With Confidence' scheme provides unprecedented protection for pet owners. We always give ample opportunity for clients to provide feedback on our services and this will now be enhanced by Trading Standards' own comments card which people will be able to send direct to their office."
Stephen hopes the 'Buy With Confidence' approval will be a first step in a closer working relationship with trading standards.