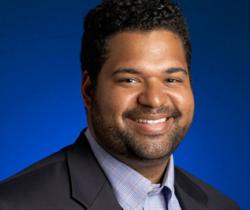 This is a great opportunity for MBEs to learn about the latest technology from one of the industry leaders in small business technology. Dr. Fred McKinney, President and CEO, GNEMSDC
Boston, MA (PRWEB) August 20, 2012
Chris Genteel, Head of Diversity Markets, at Google will be presenting their "Accelerate Your Business Online" presentation at the Greater New England Minority Supplier Development Council (GNEMSDC) Business Opportunity Fair and Expo on Wednesday, September, 12 at Foxwoods. Here are some of the questions that the seminar will address:
Are new customers finding your business online? When your service or product is Googled thousands of times per month, do your customers find your brand and expertise, or those of your competitors? Are you communicating within your business and with your customers using the best cloud-based services? The answers to these questions may put you ahead or behind your competitors. Chris Genteel of Google will lead a panel of MBEs, who excel in using the Internet to grow their business, in a frank discussion about their successes and challenges in forming business relationships in the digital age. This session is sponsored by Accelerate with Google.
Chris Genteel leads Google's efforts to make its products useful and accessible to diverse businesses and their communities. His team works with customers and partners to support the ecosystem of underrepresented US businesses using online tools for business success. Chris was Online Sales Manager for Google AdWords where his customers were a range of mid-sized to Fortune 500 B2B businesses looking to the web for aggressive growth and customer acquisition online. In 2011 Chris received the President's Award from the Michigan Minority Supplier Development Council for his dedication to advancing minority business development.
The GNEMSDC is a 501 c-3 corporate business membership organization committed to growing business relationships between large public and private sector corporations and certified MBEs. The GNEMSDC is the regional affiliate of the NMSDC, and covers the six New England states of MA, NH, VT, RI, CT and ME. The GNEMSDC has over 200 corporate members and certifies over 400 MBEs.
The Greater New England Minority Supplier Development Council (GNEMSDC) annual Business Opportunity Fair and Expo will take place at the MGM Foxwoods from Wednesday, September 12 through Friday, September 14. The program features nationally renowned speakers and business professionals, one on one meetings between corporate buyers and attendees, 20 minute presentations by both corporate members of GNEMSDC and certified Minority Business Enterprises (MBEs), and networking receptions.
For more information about the GNEMSDC and the Business Opportunity Fair and Expo, visit http://www.gnemsdc.org.