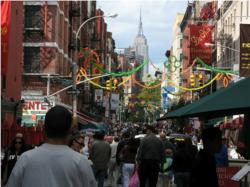 These "name-your-own-price" tours of NYC are a perfect laboratory to understand not only the demand for walking tours in NYC, but also the propensity to spend among different demographic segments. These can be valuable tools for the tourism industry.
New York, NY (PRWEB) August 20, 2012
Free Great Tours offers "name-your-own-price" New York City tours. These tours are free to join and the guest pay what they feel the tours are worth. The tour guides are paid only with tips. So how much do people pay?
Popular tours, such as the Ground Zero tour, Greenwich Village tour and Soho/Little Italy/Chinatown tours, are 1.5 to 2 hours each in length. A tour guide provides an educational and entertaining experience through stories, visual slides and points out features and landmarks. Tour companies typically charge $25 to $40 for comparable tours.
"From our limited sample size, we've seen the range of tipping from $0 to $40 per person, with the average being $15", says Andrew Luan, Founder of Free Great Tours. "Typically age and country of origin affect the tip amount. Older Australian and English travelers are great tippers, while young backpackers, as expected, tip less."
"On a few occasions people don't tip at all. Once we had a family group of 30 people on their own private tour that walked away without tipping saying they didn't have any cash. This is the rare exception, as people usually show appreciation for the guide's work and time."
Free Great Tours has a top rating from customers on TripAdvisor. "By taking Free Great Tours, customers are saving on average $10 to $25 per tour, and getting a similar or better product.", says Andrew.
With structured data collection, it is possible to construct a demand curve for walking tours in New York City and tourism spending in general. Free Great Tours can be a perfect laboratory to engage in this market study. The demand curve along with demographic data would be valuable tool to understand the spending propensity of different tourist demographic segments. Free Great Tours is open to collaborate with economists, journalists or businesses to engage in such project.
For more information contact Free Great Tours at 212 608 6918, info(at)freegreattours(dot)com or http://www.freegreattours.com
About Free Great Tours
Free Great Tours offers "name-your-own-price" tours of New York City. These tours are free to join. Our highly rated, licensed tour guides are passionate about sharing our city with visitors. Tours include Ground Zero, Greenwich Village, Soho/Little Italy/Chinatown, Lower Manhattan, Midtown, Central Park and Food Tours.