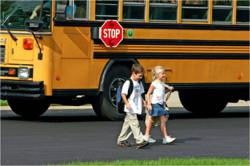 It's important to slow down when approaching kids walking or riding their bikes, because they can be unpredictable and dart in front of you at any time.
Lincoln, RI (PRWEB) August 16, 2012
As summer winds down, kids across the country are heading back to school. So Amica Insurance reminds everyone to be extra careful on the roads and offers some simple tips for parents and motorists to help keep children safe.
"Many children will be going to school for the first time, so they may not be careful when crossing the street or running to catch the bus," said Vince Burks, a senior assistant vice president with Amica Insurance. "Older children know the routine, but may forget basic safety rules in their excitement to catch up with old friends or start classes in a new school."
That's why motorists need to be extra careful, especially while driving in residential areas and school zones, Burks said. "It's important to slow down when approaching kids walking or riding their bikes, because they can be unpredictable and dart in front of you at any time."
Parents also need to take time to talk with their children about important safety rules. The National Safety Council offers these safety reminders:

Children who walk to school should use sidewalks whenever possible. On streets with no sidewalks, walk on the side of the road, facing traffic.
Children riding bicycles to school should always wear helmets. They also should ride on the right side of the road, single file, following all rules of the road.
Children taking buses should get to their bus stops early and stand well back from the curb, especially when a bus is approaching.
Bus riders should always walk in front of a bus, where the driver can see them, and get on or off a bus when the driver says it's okay.
Stay seated on the bus until it has completely stopped.
"Children also should be reminded to cross streets at corners, using crosswalks and traffic signals when available," Burks said. "And before crossing the street, they should stop and look all ways to see if a car is coming – and make sure the driver sees them."
Motorists also need to use extra caution, especially before and after school, Burks said. Here are five quick reminders:
Watch for children at intersections and in crosswalks, especially those with no crossing guards.
Take extra care when entering or exiting driveways.
Beware of children darting out from between parked cars.
Be careful when following or approaching a school bus, especially near bus stops.
Don't pass a school bus on the right and stop for any school bus that is stopped with its lights flashing while children are entering or exiting the bus.
Another risk comes into play with older students who will drive themselves to school for the first time this year, Burks said. They are sharing the roads and parking lots with other new drivers, so it is important to remind them to be especially cautious when driving to and from school.
"The start of the school year is a good time for us all to review these basic safety rules," Burks said. "We all need to work together to protect children so they have a safe, fun school year."
About Amica Mutual Insurance
Amica Mutual Insurance Company, the nation's oldest mutual insurer of automobiles, was founded in 1907. The company, with corporate headquarters in Lincoln, RI, is a national writer of automobile, homeowners, marine and personal umbrella liability insurance. Life coverage is available through Amica Life Insurance Company, a wholly owned subsidiary. Amica employs more than 3,100 people in 40 offices across the country.
CONTACT: Vince Burks, Corporate Communications, 50 Amica Way,
Lincoln, RI 02865-1155, 800-652-6422, ext. 24563
Twitter: Amica
Facebook: Amica Mutual Insurance Co.