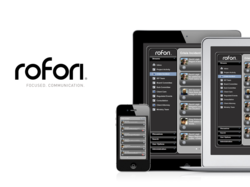 rofori has taken a nice intuitive approach to ease migration from communications to collaboration
Manassas, VA (PRWEB) August 17, 2012
Rofori Corporation, a cloud service company with a focus on providing the latest micro-blogging collaboration technology with modifiable user-defined message creation, searching and file storage, is pleased to announce its rofori service partnership with Zofia Consulting. Zofia serves nonprofits, government & mission-driven organizations with strategy, policy, knowledge management and social media services. Zofia helps organizations successfully adapt to the demands of a digital 21st Century.
Rofori is designed to enable professionals and organizations to create collaborative streams and establish a searchable knowledgebase. Rofori subscribers can leverage the aggregation of stream messages to analyze trends of member postings, message types and categories. Cloud file storage options are available with rofori file storage and/or Dropbox file storage integration. With natural structuring of messages when created, rofori enables an intuitive and easy way to search information and dialogue instantly. Rofori brings order and easy historical searching to today's rapidly expanding collaborative environment. Rofori, designed for mobility, offers a logical and intuitive interface for creating, managing, searching, analyzing and archiving messages.
Zofia Consulting assists government and non-profit leaders build collaborative communities and methodologies that allow the most complete answer to be produced in the shortest time with an informed and engaged community. Zofia achieves success through artful practice and experience with strategy, policy, and technology. With many years' experience in government and nonprofit spaces, Zofia facilitates agencies, organizations, and their constituencies connecting and working together. Zofia is focused on creating positive engagements by helping non-profit and government leaders design, prepare, and implement their desired future with an engaged and inspired constituency. Zofia works within areas of service providing practical strategies, plans and recommendations with clear courses of action and proven methodologies.