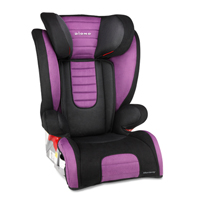 Atlanta, Georgia (PRWEB) August 24, 2012
Expert 10rate editors have chosen the Best Booster Seats in their latest Top 10 list in the baby/kids arena. Parents concerned for the safety of their child want to make sure they take every precaution when in the car. Booster seats are an important stepping stone between car seats and full fledged seat belt use for growing kids. Some criteria editors used for compiling the list were:
1. Lightweight and easy to transfer from one car to another
2. A compact fit to make it easy to put as many as three boosters in the back seat
3. A snap to install, with clear instructions and diagrams that are easy to understand
4. A safe seat that passes government safety tests and automotive crash tests
5. Affordability, so working families won't break the bank to buy one
6. Good quality workmanship with enough safety features to provide extra protection in a crash
7. The ability to convert into a larger, or even backless, seat to accommodate growing kids
According to the top 10 list, two of the best booster currently on the market are the Sunshine Kids Monterey Review and Evenflo Big Kid No Back Review. Concerning the Sunshine Kids booster seat, reviewers stated that, "The Sunshine Kids Monterey is made to carry kids up to 120 pounds and 63 inches tall. To accommodate growing children the back of the seat adjusts to fit their shoulders as they grow, up to 20 inches wide. The headrest has 11 adjustable positions for comfort, and parents have the option of whether or not to use the LATCH connectors."
When reviewing the Big Kid No Back booster seat, editors said,"Similar to the Cosco Highrise, the main feature distinguishing the Evenflo Big Kid from high-back booster seats is its simplicity. Without a back to it, this seat is lightweight and easy to handle, making it a breeze to switch from vehicle to vehicle. It's designed for older children 40 to 100 pounds and up to 57 inches tall. It's JPMA certified, meets or exceeds federal safety standards."
10rate.com conducts reviews in various product and services categories and publishes "Expert Top 10 Lists for Everything in your life." The company's web site strives to "Make it Easy" to select from the hundreds of choices there are in the product and service market place. All products and services are thoroughly researched by the companies expert editors prior to receiving a rating on a 1-10 scale. In addition to product reviews the companies editors write guidelines, buying guides and articles on various topics surrounding each product or service category covered to help educate the consumer.