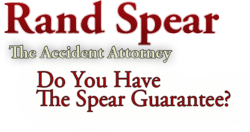 Philadelphia, PA (PRWEB) August 17, 2012
Rand Spear is now offering free legal consultations to accident victims searching for a slip and fall attorney in Philadelphia. Apart from the free legal consultation, their overall fees are very nominal and comparatively lower than the normal and standard fees of many other slip and fall accident attorneys in PA.
Rand Spear's law firm also has an amazing track record of success. In fact, a large percentage of his claims are settled before trial because of the extensive preparation that goes into each case his firm handles. These slip and fall accident attorneys of Philadelphia understand the serious medical and financial concerns facing people who have been injured in accidents. Rand Spear strives to collect every dollar and benefit his clients deserve, including: medical bills, property damage (Vehicle Repair), past wage loss, future wage loss, pain and suffering, embarrassment and humiliation, loss of life's pleasures, etc.
A spokesperson of the law firm recently stated, "In the event that you have suffered any type of personal injury, we will provide you a free legal consultation in order to help you explore all of the available options for the compensation you deserve. We will work with the insurance company to reach a reasonable settlement, but if they refuse to pay for all of your damages or injuries caused by the accident, we will be ready to fight for you in court. You get to keep more of your own money when you choose us since we work on a contingency basis for accident and personal injury cases. You will pay only when we successfully collect your claim!"
Rand Spear is known to be one of the best of the best when it comes to Lawyers in the Philadelphia area. He heads a team of very experienced lawyers who are known for their expertise in many areas of law. They are committed to success and handle a number of cases such as Philadelphia Personal Injury, Auto Accidents, DUI, Traffic, and all criminal matters.
To hear more visit http://www.randspear.com.