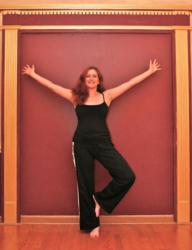 Philadelphia, PA (PRWEB) August 18, 2012
According to Jasmine Kaloudis, of Synergy By Jasmine Yoga there are several questions one should consider when thinking about hiring a private teacher.
If a student is wondering if they would benefit from private lessons from yoga teacher for private lessons but now sure how to find one and to tell if they are any good?
If the student has specific physical concerns they want to address such as low back pain, frozen shoulder or tight hamstrings or just looking for overall flexibility?
Does the student want the class to feel meditative and spiritual so they can take a deep inner journey as well or do they primarily want a physically challenging experience?
When the student is going to hire a teacher and wonder what they charge it really varies based on a number of factors.
Does the yoga student want a teacher to come to their house or do they want to practice in a studio? How far travel time will the teacher have to come to the student. Will they have to drive in rush hour? Do they have to pay extra for parking if the student lives in an urban area? Is parking difficult and will they have to spend an extra 20 minutes searching for a spot?
Does the home have adequate lighting to create a tranquil mood or will the teacher have to bring lighting?
Be Specific with Goals with Private Yoga Instruction
Does the student have an IPOD or CD player or will the teacher have to bring their music equipment?
Is the lesson just for one student or will there be other people in the group? The more people the more the teacher will probably charge?
Are there any special needs or training that the teacher should have beyond just yoga certification such as CPR skills, prenatal yoga training or medical knowledge of how to deal with a torn rotator cuff?
How experienced or new is the yoga teacher? Are they a full time teacher or do they just teach one class a month?
The student should do some online research and see what kind of reviews and feedback the teacher has received.
Is it just one session or a longer series?
Does the student have a yoga mat, blocks, yoga blankets or will the teacher have to supply one?
"When I am giving a quote for a private yoga class these are the questions in my mind before I give a quote. I also require payment upfront (to ensure commitment from the student)," states, Jasmine Kaloudis who teaches private yoga lesson in Philadelphia
Benefits of Private Yoga Lessons
Experience moments of rejuvenation, healing, transformation and relaxation.
Reduce physical aches and pains, tensions and anxieties
Heal and transform physical limitations, stiffness and chronic muscle tightness
For Philadelphia Private Yoga Instruction at home, an office or retreat
Fro students to share tips on if they have hired a private yoga instructor before, they can post answers this Facebook page