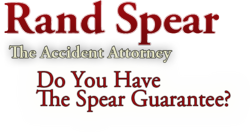 Philadelphia, PA (PRWEB) August 17, 2012
Rand Spear, a Philadelphia car accident lawyer, is now providing legal services to injured people in PA and NJ. Nobody should let an auto injury go by without a fight. Rand Spear, the Accident Lawyer and the lawyers at the offices of Spear, Greenfield & Richman, PC, can get the medical care needed and the financial compensation that a victim deserves. The best Accident Lawyer Philadelphia has to offer will be right at a client's fingertips with Spear, Greenfield & Richman, PC, and they seek to protect car accident victims throughout Pennsylvania and New Jersey.
If a person has been injured in an automobile wreck, it is wise not to speak with insurance adjusters right away. Insurance companies are not there to protect the victim. Instead, they will try to settle claims as cheaply as possible. If they get to the person before his or her injuries have been treated or completed, they will surely undervalue the claim. The best Auto Accident Lawyers Philadelphia has to offer at the law offices of Spear, Greenfield & Richman, PC are here to protect, and they can help the victim with all of his or her issues.
Many people who have been injured in a car accident do not realize the full potential of funds and benefits to which they are entitled. At the law offices of Spear, Greenfield & Richman, PC, they will guide the person throughout the entire process and make sure he or she gets the full compensation that is deserved. Some types of compensation that the law requires insurance company to pay includes:

Medical coverage to compensate the medical professionals treating injuries.
Property damage coverage to repair the vehicle or pay its value if totaled.
Lost wage coverage to pay for time missed from work.
People owe it to themselves and their families to find out all of the information they can about possible financial benefits. They work with a variety of experts, including economic, medical, and vocational experts who can help the person understand the full impact of his or her injury.
Rand Spear works with experts in a variety of fields so the client can understand the full impact of their injury on their health, finances, and life. Talking to vocational, medical, and economic experts, these Accident lawyers in Philadelphia will help a victim maximize any claim.
For assistance or more information, log on to http://www.randspear.com.