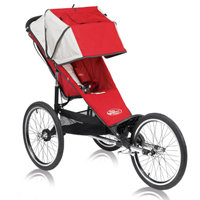 Atlanta, Georgia (PRWEB) August 28, 2012
Expert 10rate editors have chosen the Best Baby Strollers in their latest Top 10 list in the baby/kids arena. A lot of parent today are constantly on the go, and that makes it hard to have a newborn or a small child tag along all day. Strollers are important in making mobility easier for the parent, but they also provide a mobile resting place for the accompanying child. Editors weight the options available on baby strollers available today and narrowed down a list of the ten best. Some of the features looked at were: whether it's a lightweight, umbrella, standard, jogging or double stroller, price range, available options, and if there's a recall history.
According to the top 10 list, two of the best baby strollers currently on the market are the Evenflo Journey Review and Baby Jogger Review. Concerning the Evenflo Journey Stroller, reviewers stated that, "With its name recognition from Evenflo baby bottles and other infant products, this popular stroller has a front suspension wheel system, a pivoting child tray and holds up to 40 pounds. As far as the weight this stroller is capable of safely holding, that falls in the middle of the road, between 20 pounds for some brands and 50 pounds for others. " It also won the best budget model award.
When reviewing the Baby Jogger Performance Series baby stroller, editors said,"For parents who like to combine a good run with an outing with baby, this is the stroller built for some speed. It has been described as being 'designed with the serious runner in mind.' Its three spoked wheels resemble bicycle wheels, and a one-piece frame, with no hinges or joints that could weaken with repeated use. For appearance it comes in three different eye-catching color combinations."
10rate.com conducts reviews in various product and services categories and publishes "Expert Top 10 Lists for Everything in your life." The company's web site strives to "Make it Easy" to select from the hundreds of choices there are in the product and service market place. All products and services are thoroughly researched by the companies expert editors prior to receiving a rating on a 1-10 scale. In addition to product reviews the companies editors write guidelines, buying guides and articles on various topics surrounding each product or service category covered to help educate the consumer.