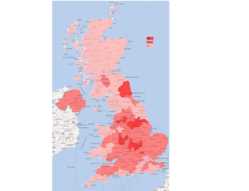 "In a continued period of recession it is no surprise to see business crime levels rising, however what is most alarming for business owners is the increase in levels of violence associated with theft.
(PRWEB UK) 17 August 2012
The latest Business Crime Index from AXA, one of the UK's largest business insurers, shows levels of crime committed against businesses in the UK have grown by 16% in the worst hit areas, while across the UK the cost of theft has increased significantly alongside a rise in the use of violence.

3% increase in crime for two years running
worst hit areas see 16% rise in crime
cost of crime is hundreds of millions of pounds
average theft rises in value by 6%
violent thefts climb by 6%
arson rates up by 10%
The findings, taken from AXA's business insurance claims records to end May 2012, suggest that the riots of last summer contributed to an overall 3% increase in the level of crimes against businesses during the last twelve months. However, riots aside, the increase reflects a general and continuing upward trend of crime against business in the last two years with a 3% increase also recorded for the previous year. In the top ten worst affected postcode areas of the country (see list below) the rise in crime rates over the last year has been 16%.
AXA estimates the total cost of business crime runs into several hundred million pounds with many businesses unable to claim back costs due to insufficient insurance provisions.
Types of Crime
The most common crime committed against business is theft accounting for around 74% of the total volume. And while numbers of thefts have risen only slightly over the last twelve months there has been a significant rise of 6% in the average value of theft claims to just under £4000. The number of thefts involving force or violence has also increased by around 6%.
AXA, which insures around 25% of the UK's SMEs, revealed that, aside from riot claims, arson was the crime that saw the biggest rise last year with around 10% more cases while malicious damage claims against businesses dropped by around 10%(1).
Douglas Barnett, Head of Customer Risk Management, from AXA says: "In a continued period of recession it is no surprise to see business crime levels rising, however what is most alarming for business owners is the increase in levels of violence associated with theft. This, coupled with the increase in value of the average theft suggests a more "determined" than "opportunistic" thief is emerging during hard financial times.
"We would urge all businesses to do what they can to reduce the risk of becoming a victim – a big loss can be devastating for small businesses in both financial and emotional terms."
The UK's Business Crime Hotspots
When looking at geographical spread the table below shows the places with the highest rates(2) of business crime across the UK in the 2011/2012 period and the twelve months prior to this.
TOP TEN AREAS FOR BUSINESS CRIME
BY POSTCODE REGION
June 2011 – end May 2012 June 2010 – end May 2011
1 Halifax Walsall
2 Telford Wolverhampton
3 Oldham Coventry
4 Luton Derby
5 Doncaster Oldham
6 Dudley Telford
7 Wolverhampton Milton Keynes
8 Wigan Dudley
9 Walsall Lincoln
10 Bolton Wigan
Halifax was in at number one this year after experiencing the second highest climb in crime rates in the UK over the last twelve months. Its position in 2010/11 was 57.
Other newcomers in the top ten for 2012 are Luton, Doncaster and Bolton while Coventry, Derby, Milton Keynes and Lincoln have dropped out of the top spots since 2011.
In terms of actual numbers of crimes against businesses, South West London is top followed by Leeds and Birmingham. But as overall numbers of business are also much higher in these areas, relative rates are lower keeping them out of the top ten.
The postcode area with the biggest rise in crime rates was Sutton, with numbers of crime up by 140%, taking them to 19th place overall in the UK.
The postcode area with the biggest significant fall in overall crime was Kilmarnock where numbers dropped by 42%.
Barnett at AXA commented: "Geographically the areas that feature strongly in our top ten show a close match to areas of the country that have been hit hard by the recession. It is a sad fact of life that in hard times, some people will turn to crime."
Keeping crime out: top tips from AXA

Doors are the first port of call for any criminal wanting to gain access to your premises. Don't make it easy for them. Doors that have been strengthened/protected with steel supports and good quality locks will be a deterrent to thieves using force or violence to break in.
Windows should be screwed or bolted shut permanently unless they must be able to open, in which case, these sections should be fitted with key operated locks. Steel bars can offer further protection. While a really determined thief can work around all of these measures, they can act as a good deterrent to violent or forced entry.
An intruder alarm system is useful particularly if the premises are vulnerable or isolated and thieves are able to operate without the risk of being seen or heard. However, alarms are pointless if not properly maintained or if sensors are covered by stock, furniture or other items.
Sprinkler systems can help prevent the devastation caused by an arson attack. But like alarm sensors, these need to be kept properly maintained and not blocked by office clutter.
CCTV can be very effective in deterring would-be thieves, vandals or arsonists. And, security lights can make premises a less attractive prospect for criminals.
If you are taking on new staff be thorough about taking up references and carrying out background checks.
Cash is a big draw for thieves and can sometimes be the trigger for a violent attack. If you have tills, regularly remove cash and place in a safe. Use a recognised cash carrying company to collect and be aware of how much money your policy will cover you for while on site, off site and during transit.
Important data can be lost in a burglary or fire. It is worth investing in the technology that will allow you to back up data using a cloud or off-site facility.
Keep your insurance up to date and check sums insured regularly to make sure you have adequate insurance in case the worst should happen. Particularly if your circumstances change such as you invest in new equipment or increased levels of stock.
AXA provides a number of services to businesses to help them get the right insurance and protect against crime:

online risk assessment with different levels of cover to match the business requirements
discounts for sprinklers and security systems
specialist teams who will help to get businesses up and running again should the worst happen
*Heat Map showing crime rates across the UK – based on AXA claims data for 12 months to end May 2012. A high res version of this is available from the contact details above
(1)This applies to arson and malicious damage claims outside of those associated with riot
(2)These figures are based on the relative level of crime against numbers of businesses rather than actual numbers which will be greater in bigger postcode regions
About AXA Business Insurance
AXA is one of the largest general insurers in the UK and underwrites a broad range of products for individuals and businesses. AXA Business Insurance offers business insurance for sole traders, the self-employed and small businesses through its website axainsurance.com and is designed to make buying insurance fast, secure, convenient and easy-to-use. Small businesses can choose Public Liability, Employers' Liability and Professional Indemnity insurance and can tailor cover to their own requirements.
About AXA
AXA UK is a part of the AXA Group. The AXA Group is a worldwide leader in insurance and asset management, with 163,000 employees serving 101 million clients in 57 countries. In 2011, IFRS revenues amounted to Euro 86.1 billion and IFRS Underlying Earnings to Euro 3.9 billion. AXA had Euro 1,065 billion in assets under management as of December 31, 2011.
In the UK AXA operates through a number of business units including: AXA Wealth; AXA Commercial Lines and Personal Intermediary, AXA Personal Lines, AXA PPP healthcare, AXA Ireland and an independent distribution business Bluefin. AXA employs over 12,000 staff in the UK.
The AXA Group is included in the main international SRI indexes, such as Dow Jones Sustainability Index (DJSI) and FTSE4GOOD, and is a founding member of the UN Environment Programme's Finance Initiative (UNEP FI) Principles for Sustainable Insurance.