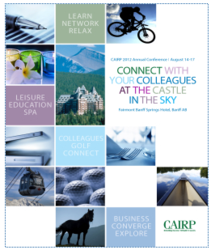 "CAIRP's annual event is an excellent opportunity for our Personal Bankruptcy Canada experts to share relevant knowledge and experiences from all across the country."
Banff, Alberta (PRWEB) August 17, 2012
This week, several of Personal Bankruptcy Canada's network of sponsor firms, financial experts and leading Trustees in Bankruptcy from across Canada will come together for the first time to discuss the Canadian economy and share insights and best practices in debt management and restructuring, at the 2012 Canadian Association of Insolvency and Restructuring Professionals (CAIRP) Annual Conference, August 14th through August 17th, in Banff, Alberta.
Personal Bankruptcy Canada provides free information and bankruptcy resources for consumers and businesses, including access to bankruptcy experts and trustees across the Canadian provinces and valuable education information on bankruptcy and debt management.
"CAIRP's annual event is an excellent opportunity for our Personal Bankruptcy Canada experts to share relevant knowledge and experiences from all across the country," said David Smith, Co-Founder of Personal Bankruptcy Canada. "The information exchange among the Personal Bankruptcy Canada Network in Banff will allow our member firms and experts to better serve and help more and more Canadians facing debt management issues."
Firms, experts, and Trustees in Bankruptcy from the Personal Bankruptcy Canada network scheduled to be in Banff include representation from Bromwich & Smith, Janes-Noseworthy, E. Sands and Associates and A. Farber and Associates.
For more information about the 2012 CAIRP Annual Conference, click here.
For more information about being a part of the Personal Bankruptcy Canada network as a sponsor firm, visit http://www.personalbankruptcycanada.ca.