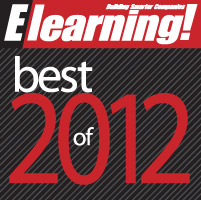 Richard Wyles, CEO of Totara Learning Solutions said, "It is very encouraging to receive this recognition from our peers and practitioners of elearning.
Wellington, New Zealand (PRWEB) August 16, 2012
"The Best of Elearning! Awards program formalizes the informal "word-of-mouth" referrals practiced in the industry. According to its survey, 85 percent of professionals have personally recommended a learning solution to a colleague over the past 12 months. And 61 percent agreed that award recognition impacted their buying decision," cites Catherine Upton, group publisher of the Elearning! Media Group.
Readers, practitioners and community members nominated and voted for products and solutions via Elearning! Media Group's online ballot. TotaraLMS, was selected in the Best Open Source Solution category. Totara LMS is a custom distribution of Moodle, designed specifically for the requirements of workplace and corporate learning. Totara is transforming the learning management marketplace, in terms of business model, level of innovation, market coverage and global distribution. Totara combines the benefits, of having a low-cost, yet fully-featured LMS along with absolute flexibility to build as many unique extensions, or changes to functionality as the customer may require. The code is 100% open source and with its modular architecture, Totara is designed to have additional custom features unique to a specific client or sector.
Richard Wyles, CEO of Totara Learning Solutions said, "It is very encouraging to receive this recognition from our peers and practitioners of elearning. It demonstrates how our commercial open source approach has distinct advantages in terms of both the quantity and quality of ideas, as it embraces all users and partners as potential innovators, not just Totara's own R&D Unit. The results are already making a significant impact with both small and large organizations worldwide, showing a new wave of innovation is underway in how learning is delivered and managed in the workplace."
All ballots were cast between May 15 and August 1, 2012. Each ballot was reviewed and validated by the editorial team. All vendor ballots were voided. "Every finalist is a winner in the Best of Elearning! Awards. Given the high volume of votes and the number of nominated products, every one of these solution providers should be proud to be honored for excellence," said Catherine Upton, Group Publisher, Elearning! Media Group.
The winners will be named at the Best of Elearning! Awards Luncheon held at the Enterprise Learning! Conference & Expo (ELCE) on September 26, 2012 at the Hyatt Regency Irvine, CA.
About Elearning! Media Group
Elearning! Media Group is owned by B2B Media Group LLC. Elearning! Media Group consists of eleven media products including: Elearning! Magazine, Government Elearning! Magazine, e-magazines, e-mail newsletters, Alerts, Web sites, Web seminars, the Enterprise Learning! Summit and Enterprise Learning! Conference & Expo. Elearning! Media Group serves the $160 billion enterpriselearning market. Suppliers and practitioners can follow us: online at http://www.2elearning.com, http://gov.2elearning.com; on Twitter: 2elearning, #ELCE12, #ELSummit; via Facebook: Elearning!-Magazine or LinkedIn: Elearning! Magazine Network or Enterprise Learning! Events.
Please go to http://blogs.2elearning.com/2012/08/links-to-top-72-product-finalists-in-best-of-elearning-awards/ for more details about the awards.
About Totara Learning Solutions
Totara is an open source learning management system for the corporate sector based on Moodle. Totara LMS has a range of enhancements over and above the wide-ranging functionality already available in Moodle. These enhancements are designed specifically for corporate organizations and include:

Individual development plans
Classroom management
Team management
Competency management
Learning paths
Program management
Sophisticated reporting
Enhanced search
The Totara LMS Partner Program is designed to support organizations in delivering enterprise LMS solutions to their clients.
Please visit http://www.totaralms.com.