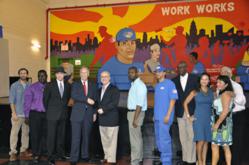 Part of being a member of your community is being aware of where need exists, and giving back where you can.
NEW YORK, N.Y. (PRWEB) August 17, 2012
In a celebration of the spirit of collaboration in the face of incredible odds, summer youth employees of Creative Arts Workshops for Kids (CAW) joined trainees from The Doe Fund on Wednesday to unveil a 640-square-foot original collaborative mural at The Doe Fund's Harlem Center for Opportunity.
The Doe Fund, whose most visible initiative, Ready, Willing & Able cleans over 150 miles of New York City streets, 365 days a year, as part of a work-skills and employment training program for formerly homeless and incarcerated men, paired their clients with local Harlem CAW youth as part of a summer-long employment and mentorship program to empower the student artists and promote self-sufficiency.
"Over the past two summers, CAW has helped me grow as a young professional and a creative thinker", said CAW alumni Richard Rosado. "Working this summer collaboratively side-by-side with The Doe Fund men who have risen from such adversity further inspired me to strive even harder and grow more as an individual and an artist because they so appreciate the value of commitment and a strong spirit."
"To have the opportunity to work alongside CAW on such an amazing project is an experience I'll take with me wherever I go," said trainee, Pedro L. Teron. "I truly enjoyed being able to further my passion for art, while developing skills I hope to one day use to teach others. To be able to work with such talented individuals has been a wonderful gift."
Leadership from both organizations were on hand to celebrate this momentous occasion. CAW's Executive Director & CEO, Brian Ricklin expressed pride at all his summer youth employees and the trainees of The Doe Fund were able to accomplish together. "I know that our 'CAW Kids' have been so proud to work alongside the 'men in blue' to accomplish this tremendous task," he said. "This gorgeous mural here is proof of what communities big and small are able to achieve through cooperation, and evidence that 'work works' and 'art works'."
George McDonald, Founder and President of The Doe Fund, echoed Mr. Ricklin's sentiment. "Part of being a member of your community is being aware of where need exists, and giving back where you can." He said. "I am so proud of each of the trainees and CAW participants who worked on this project—because I know that the creation of this mural helped to instill in each participant the desire for service and community engagement which will last a life time."
Creative Arts Workshops for Kids' collaborated as part of its restorative justice efforts with the Lasting Investments in Neighborhood Connections program of the Children's Aid Society at The Harlem Center for Opportunity. CAW also unveiled other youth-created Summer 2012 public art in NYC Family Court, the 369th Regiment Armory and on PS 192 on West 138th; tomorrow, CAW will unveil a large canvas triptych in the north lobby of 787 Seventh Avenue and celebrate all of its Summer 2012 Summer ArtWorks kids and its five murals and community partners with a free cocktails and hors d'oeuvres from 5:30 –7:00 PM.
------------
About The Doe Fund
Headquartered in New York City, The Doe Fund is a $50 million, multi-disciplinary human services agency that helps 1,000 people every day to better their circumstances through programs providing paid work; workforce development and job placement; transitional, supportive, and permanent housing; drug testing and counseling; and comprehensive social and educational services. All once homeless or incarcerated, the "men in blue" of the organization's flagship program, Ready, Willing & Able, can be seen cleaning 150 miles of New York City streets every day. This paid transitional work is the first step they take toward self-sufficiency, and they complete Ready, Willing & Able with full-time, permanent employment, apartments of their own, and their sobriety. To learn more, visit http://www.doe.org, or http://www.facebook.com/TheDoeFund.
About Creative Arts Workshops for Kids
Creative Arts Workshops for Kids (CAW) is a nonprofit organization that improves the lives of under-resourced NYC youth through the use of the visual, performing, and technology arts. CAW serves annually over 5,000 children, teens and young adults, ages 4 – 24, with free Saturday and after-school workshops and full-time summer jobs that empower youth to improve their leadership and creative problem-solving skills, appreciate consequence-based decision-making and build self-confidence and other tools for positive self-expression while deepening the relationship between themselves, art and community to create positive change in their lives. To learn more, visit http://www.caw4kids.org or http://www.facebook.com/caw4kids.