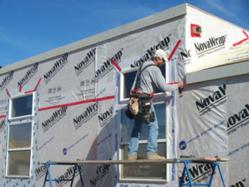 We also want the market to know that our product offerings extend far beyond tapes.
Montreal, Quebec and Bradenton, FL (PRWEB) August 18, 2012
North America's second largest tape manufacturer and a leading supplier of packaging products, IPG® (Intertape Polymer Group®), introduces the IPG brand of weather barrier products to the construction industry. The portfolio of products consists of NovaWrap™ building wrap, NovaSeal® roof underlayment, and NovaFlash™ self-adhered flashing, along with a full line of complementary tapes including Intertape® Sheathing Tape.
Together, the products comprise IPG's Total Moisture Control System, engineered to work together to deliver energy efficiency, durability, and optimum moisture management, while ensuring superior contractor and owner satisfaction.
Although IPG building products have been available in North America since 2010, the company has launched a major introduction of its brand for the first time to builders, contractors, and specifiers via robust advertising and Public Relations campaigns.
"We're investing in the IPG brand and demonstrating the company's commitment to the building and construction markets," said James Apap Bologna, Vice President, Marketing and Corporate Communications "We see it as an important way to add value to our customers' businesses by raising our awareness as a manufacturer. We also want the market to know that our product offerings extend far beyond tapes."
IPG's building products are designed to help architects and specifiers meet sustainability goals, according to Apap Bologna. "They play an integral role within the building envelope by helping reduce energy costs and contribute to moisture control and a healthier building environment. And when used properly, they can contribute to earning green building credits based on requirements established by LEED®, ENERGY STAR®, and other green building standards," he said.
IPG's building products, which have undergone third-party technical evaluation for code compliance by ICC-ES, can also help specifiers meet municipal, state, and national building codes.
Founded in 1981 as a manufacturer of pressure-sensitive carton sealing tape, IPG expanded its product line to include woven products, such as lumber wrap, HVAC tapes, and later building products. It is an acknowledged leader in the packaging industry, offering a full line of products and equipment. With revenue surpassing $780 million in 2011, it serves markets as diverse as the automotive aftermarket, aerospace, medical and pharmaceutical, ecommerce, and food processing.
IPG building products are available from major dealers, distributors, leading home improvement stores and retailer-owned hardware cooperatives. For more information about IPG's line of building products, contact IPG Customer Service at 800-474-8273. Visit the website http://www.itape.com.
About IPG (Intertape Polymer Group Inc.)
IPG (Intertape Polymer Group Inc.) is a recognized leader in the development, manufacture and sale of a variety of paper and film based pressure sensitive and water activated tapes, specialized polyolefin films, woven fabrics and complementary packaging systems for industrial and retail use. Headquartered in Montreal, Quebec and Bradenton, Florida, the Company employs approximately 1,800 employees with operations in 19 locations, including 12 manufacturing facilities in North America and one in Europe. The website is http://www.itape.com.
Caption:
IPG is introducing its brand to the construction market through a marketing campaign featuring its line of weather barrier building products, including NovaWrap™ ASPIRE™ premium building wrap and NovaFlash™ flashing (shown), as well as NovaSeal® roof underlayment.
For high-res image contact elva(at)alvare(dot)com