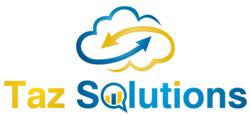 We now have the talent and the in-house resources to compete with any national agency, much more cost-effectively
Tonawanda, NY (PRWEB) August 20, 2012
Taz Solutions, a leading digital marketing and design firm, has acquired e-Media, a full-service audio and video production company. This strategic decision was made to follow the company's vision of becoming the leading marketing and design firm in Western New York.
"The focus of this decision was to boost our in-house capabilities," said Michael Tasner, CEO and founder. "We see everyday how video is transforming not only the Internet, but the way brands market themselves and are presented on the Internet. We are excited to provide that experience."
A company that already offers an array of digital marketing services, from web design, social media management and SEO campaigns, this acquisition allows Taz Solutions to now offer brands videography design, production and editing, local and national television and radio ads, 3D video production, CD/DVD production, interactive media design, and still photography layout, production and editing.
"This allows us to produce video campaigns to support your overall marketing objective," Tasner said. "Videos not only boost your SEO rankings, but can be used to create a multi-channel social media strategy through your brand's Facebook, Twitter, and YouTube pages, and can be supported through your corporate website and blog."
With the acquisition of eMedia Studios, Taz Solutions now offers clients the most efficient method to increase their web presence, in Video SEO. By combining existing marketing tactics with video, Taz Solutions, working in conjunction with the Guerrilla Video Solutions production team can strategically place a small business at the top of search engines such as Google, Yahoo! and Bing, based on the local businesses geographic location and business niche.
Taz Solutions is focused on providing small-to-medium sized businesses the opportunity to "get noticed" on the Internet, and to create new streams of revenue through strategic, and affordable marketing efforts.
"We now have the talent and the in-house resources to compete with any national agency, much more cost-effectively. That's something we're very proud of." For information on how Taz Solutions can assist your marketing efforts, contact Michael Tasner, at Michael(at)tazsol(dot)com for a free 360-degree review.