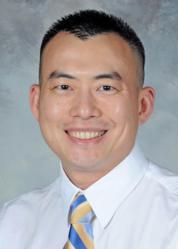 "We believe his unique training and experience will be a great addition to our practice." - Dr. Enrique Quintero
The Woodlands, TX (PRWEB) August 18, 2012
Allergy & Asthma Associates (AAA) is pleased to announce the addition of Doanh Nguyen, M.D. to The Woodlands – Town Center, and The Woodlands – Sterling Ridge offices starting July 23, 2012.
Dr. Nguyen recently helped set up a specialized Atopic Dermatitis Clinic at the University of South Florida, where a comprehensive and standardized approach to treat eczema was established. He brings his specialty of treating patients with eczema and primary immunodeficiency to AAA. He also specializes in the treatment and diagnosis of both children and adults with asthma, chronic sinusitis, chronic cough, urticaria, and various allergic diseases such as food allergy, hay fever, and insect and drug allergies.
"We are proud to add Dr. Nguyen with his added expertise in the diagnosis and treatment of eczema and know he will be of extreme value. The communities in North Houston will benefit from his ability to manage difficult skin allergic disorders," said Dr. Enrique T. Quintero, past president of Allergy & Asthma Associates. "We believe his unique training and experience will be a great addition to our practice."
Dr. Nguyen earned a bachelor's degree from the University of Houston in Biochemistry and Biophysics in 2003, and was awarded his medical degree in 2007 from the University of Texas Medical School at Houston. He completed his fellowship training at the Division of Allergy and Immunology, Pediatrics at All Children's Hospital, University of South Florida in Saint Petersburg, Florida. His research focused on subcutaneous immunoglobulin replacement in primary humoral immunodeficiency patients and patients with eczema.
At The Woodlands offices, Dr. Nguyen joins allergists, Drs. Enrique T. Quintero, Robert S. Burress, and Christine M. Kucera, as well as, otolaryngologists, Drs. Ifepo O. Sofola, Benjamin Cilento, and Perrin C. Clark.
Serving the community since 1957, Allergy & Asthma Associates is now the largest allergy specialty group practice in the greater Houston area, with fifteen locations spanning southeast Texas. Most locations offer both specialized ENTs with advanced training in complex sinus surgery, rhinology, reconstructive and facial plastic surgery, and board certified allergists to provide a comprehensive treatment for sinus and allergic problems under one roof. AAA also provides a full complement of specialized services including adult and pediatric allergy, asthma, adult and pediatric ENT, facial plastic and reconstructive surgery, and CT sinus imaging. For more information please visit http://www.texallergy.com.