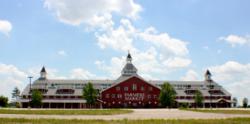 "It was with intended forethought that the company only use the building for its own purposes if it proved to be suitable for the company's needs. We did not want to take away from potential value of the building if selling it would present opportunities
Elkhart, IN (PRWEB) August 21, 2012
"Our goal with the purchase of the property was to acquire enough acreage to relocate our operations close to the landfill." said Ken Himes, the President of Waste-Away Group. "We set out to attain a sufficient amount of land to allow our company to develop and grow its operations. We wanted to gain a more direct route to some of our larger service areas while staying near the US 20 bypass and the area's landfills...and we have successfully done that."
The initial purchase of the building, which is the largest peg-built structure in America, was a savvy investment strategy for the local, family-owned company. Himes detailed further that; "It was with intended forethought that the company only use the building for its own purposes if it proved to be suitable for the company's needs. We did not want to take away from potential value of the building if selling it would present opportunities for a higher and better use."
Combining operations for Waste-Away Group would mean merging the offices currently in multiple buildings; some of them across the street from each other and some even miles apart. Plans are moving forward to build a new Maintenance Facility for the company.
Laced throughout the interview was an underlying theme of hope that the buyer would have some consideration with respect to the use of the one-of-a-kind building as something that the community would enjoy or that would help draw people to our area.
"We are ready to take the next step." Himes relates, "We have the opportunity to expand our business in this prime location by selecting the right spot and realizing its full potential going forward. We are constructing the framework for the development of the property. Smart development for a long-term investment equals long-term care for that investment. We have had a lot of community support on our vision. It was one of the best business investments our company has made." When asked if they would do it again, Himes humbly smiled and said, "Absolutely."
This property is listed with:
Pete Letherman, CCIM, SIOR
Senior Vice President
FM Stone Commercial
(574)296-1310
Waste-Away Group, Ltd. manages waste collection, transportation, and disposal, both to a Materials Recovery Facility and landfill facilities for residential, commercial, and industrial customers. Having served Northern Indiana and Southern Michigan for over 70 years, Waste-Away Group, Ltd. is headquartered in Elkhart, Indiana. Its affiliate companies, Borden Waste-Away Service, Inc., providing residential waste and recycling removal, Himco Waste-Away Service, Inc., serving our commercial and industrial customers for their waste and recycling removal, Integra Certified Document Destruction LLC, providing safe, secure destruction of sensitive material and hard drives, and Recycling Works, Inc., the Materials Recovery Facility that sorts and ships recycling commodities to the world market for reuse. Together, these companies making up Waste-Away Group, provide innovative, environmentally sound solutions while maintaining a leading market share in its core business areas.
Media Contact:
Ken Himes
President
Waste-Away Group, Ltd.
(574) 293-8534
Ken.Himes(at)wasteawaygroup(dot)com
Press Release Contact:
Leslie Jones
Waste-Away Group, Ltd.
(574) 387-6406
Leslie.Jones(at)wasteawaygroup(dot)com