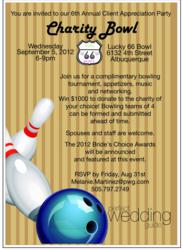 Oklahoma City, Oklahoma (PRWEB) August 25, 2012
Albuquerque-Santa Fe Perfect Wedding Guide, a locally focused wedding planning publication devoted to connecting Albuquerque and Santa Fe brides and wedding professionals since 2003, is hosting a Charity bowling tournament at Lucky 66 Bowl at 6132 4th Street on Wednesday, September 5, 2012 from 6:00 – 9:00pm.
The Charity Bowl, produced by Perfect Wedding Guide, is an opportunity to show appreciation to local wedding professionals as well as provide an avenue for networking. The grand prize is $1000 to be donated to the winning team's charity of choice. Over 250 local businesses will be invited to form teams of four to participate in the charity tournament.
Featured at this event is the 2012 Bride's Choice Awards which is an annual contest in the New Mexico wedding industry where brides can vote for their favorite wedding businesses, with winners presented during the event.
For more information about the Perfect Wedding Guide Charity Bowling Tournament, pictures, marketing material, media passes and interviews please call 505.797.2749 or email Melanie.Martinez(at)pwg(dot)com.
About Perfect Wedding Guide
For over 20 years, Perfect Wedding Guide has been dedicated to creating innovative wedding planning solutions for brides of all budgets. Our company offers couples a number of fun, useful, and FREE products to help make wedding planning less of a chore and more of a treat. Our local guides and bridal shows are available coast-to-coast in over 60 markets, showcasing some of country's top wedding vendors who work right in the bride's backyard. Our national website, PerfectWeddingGuide.com, is full of fresh planning tips and wedding ideas, wedding news, an extensive photo gallery for inspiration, easy-to-use wedding planning tools, as well as a wedding blog community hosted by our national wedding planning expert. For more information, pictures and/or videos contact Melanie Martinez or visit the local site, http://nm.pwg.com.